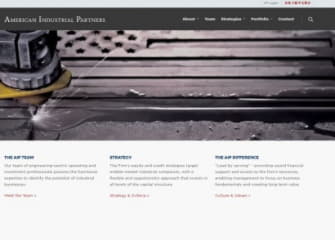 American Industrial Partners (AIP) announced today that it has acquired majority ownership of The Brock Group, a Houston-based provider of mission-critical services to the refining, petrochemical, power generation and other industries. AIP is a New York-based private equity firm that focuses on buying, improving and growing industrial businesses in the U.S. and Canada. Through the transaction, a substantial new money investment of both convertible debt and equity has reduced the Company's indebtedness and added meaningful liquidity and capital resources to Brock's balance sheet. Brock is now in the strongest financial position in recent history.
"We are thrilled to partner with Brock and its leadership team to welcome a new beginning for a clear market leader in the industrial services space," said Jason Perri, a Partner of American Industrial Partners. "Brock's track record of unparalleled service and safety in providing mission-critical services to some of the largest companies in the world speaks for itself, and fits well with our goal of working together in creative ways with great businesses to help them move beyond capital structure obstacles and achieve their full potential." Perri continued, "This investment is emblematic of the firm's expanded capabilities, through our special situations mandate, to invest in transactions that require creative structuring and flexibility in all parts of the capital structure."
In addition to helping deleverage the balance sheet, AIP will work with management and employees to implement an operating agenda and business transformation plan that will substantially enhance Brock's already excellent ability to service its customers and grow its presence in existing and new end markets. Over time, AIP will look to add to Brock's portfolio of soft crafts and services in order to continue to solidify the Company's position as a one-stop shop for customer needs on-site.
"Today's announcement represents an extremely positive step for the future of our company," said Brock Chairman and Chief Executive Officer Mike McGinnis. "Brock's leading position as a trusted supplier of services for large-scale capital projects, critical maintenance and turnarounds will be further solidified with AIP as a partner. Furthermore, AIP's investment in Brock significantly reduces our debt, strengthens our balance sheet and enables us to make new investments to enhance our commitments to our customers and drive the growth of our Company. AIP's expertise in industrial-sector businesses and collaborative management style will help position us to take advantage of the significant marketplace opportunities we see."
About American Industrial Partners
American Industrial Partners is an operationally oriented private equity firm that makes control and special situation investments in industrial businesses serving domestic and global markets. The firm has deep roots in the industrial economy and has been active in private equity investing since 1989. To date, AIP has completed over 70 transactions and currently has $4.1 billion of assets under management on behalf of leading pension, endowment and financial institutions. For more information on AIP, visit www.americanindustrial.com.
About The Brock Group
The Brock Group is a leading provider of industrial specialty services with headquarters in Houston, Texas, and operating units in the United States and Canada. With approximately $1.3 billion in revenue and 13,000 employees, the Company supports routine maintenance, turnarounds and capital projects by providing services including scaffolding and work access, insulation, coatings/linings, and asbestos abatement, as well as additional associated services. Brock has long standing relationships with a broad array of customers including some of the largest Fortune 500 companies in the oil & gas, refining, petrochemical, power generation, LNG and pharmaceutical industries. For more information on Brock, visit www.brockgroup.com.