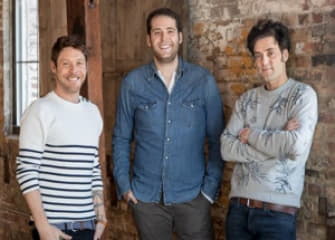 Butterfly, an employee intelligence and management coaching software, announced that it has raised a $2.4 million seed round investment from leading venture capital firms and angel investors.
Participating in the oversubscribed round are: Daphni (lead), Tectonic Capital, and Precursor Ventures. Other notable investors include Laurent Schwartz, co-founder of ALTEN, a multinational technology and engineering consulting company and Brandon Evans, the founder of Crowdtap (representing FoundersGuild, a global founder investor group).
With the seed round, Marie Ekeland, co-founder of Daphni, will join Butterfly's Board of Directors. Shareholders from previous rounds include Keith Teare, Founder of Accelerated Digital Ventures and co-founder of TechCrunch, and Jeremy Le Van, co-founder of Sunrise Calendar (acquired by Microsoft).
This round of funding will be used to evolve Butterfly's platform and expand the team to support increased client and product demand.
Butterfly's employee intelligence platform allows managers to gather feedback from their teams in real-time based on the key factors influencing workplace engagement as determined by advisors from The University of Oxford and Columbia University. Through regular pulse surveys, managers can act on feedback and improve their soft skills through the ongoing guidance of an artificially intelligent leadership coach, which leverages an organization's existing learning and development content or content that Butterfly licenses.
"Being a great manager is tough—and without technology providing managers with ample support—is nearly impossible. The occasional training session is not enough to grow world-class leaders," said David Mendlewicz, CEO & co-founder of Butterfly. "Butterfly is by managers' sides day in and day out to help them navigate the inevitable challenges they'll face."
Butterfly entered the market to address the growing leadership gap that has become pervasive across global organizations in which millennials are rapidly rising through the ranks and taking on larger leadership responsibilities. Per the Harvard Business Review, most companies wait a decade to provide formal leadership training to their managers. Compounding this is the fact that millennials are rising through the ranks faster than prior generations and are accustomed to using real-time communication tools to connect and engage in the workplace.
"More than 70 percent of U.S. workers are not actively engaged at work, and the traditional means for developing and engaging talent are out of sync with the modern workplace," said Jan-Emmanuel de Neve, Associate Professor of Economics & Strategy at the University of Oxford and advisor to Butterfly. "The organizations that succeed as we near the future of work will be those able to build continuous feedback into the DNA of their cultures and evolve managers to their full leadership potential by using data to improve soft skills over time."
Headquartered in Brooklyn, Butterfly was recently honored as a top five app in its category by the Webby Awards. Its co-founders are David Mendlewicz, Marcus Perezi-Tormos, and Simon Rakosi.
About Butterfly:
Butterfly is an employee intelligence and management coaching software designed to transform managers at all levels into exceptional leaders. Butterfly helps modern organizations gather regular employee feedback that drives actionable insights and builds stronger leaders and more transparent cultures. A pioneer in AI-powered management coaching, Butterfly's self-learning technology uses real-time team feedback to deliver customized leadership training and content to managers on an ongoing basis.
Companies like GE, Citibank, Ticketmaster, and Jet.com rely on Butterfly to grow leaders and build stronger, happier teams. In 2017, the Webby Awards, the internet's highest honor, named Butterfly as one of the top 5 platforms in its category. Learn more at http://butterfly.ai.