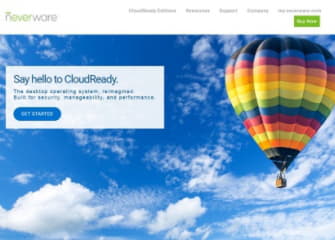 Neverware, the New York-based developer of the secure and manageable CloudReady operating system, announced today that it has launched its Series B funding round, with Google participating as an initial investor and other investors to follow. The additional capital will be used to scale Neverware's enterprise sales and marketing efforts, as well as amplify the rapid adoption of the CloudReady operating system already taking place in the global education market.
CloudReady is built on the same open-source technology as Google's Chrome OS and makes the speed, simplicity, and security of Chromebooks available on nearly any PC or Mac, regardless of manufacturer or age. With CloudReady, organizations can reduce the total cost of managing devices, more effectively scale for growth and productivity, and dramatically improve security—all without purchasing new hardware. IT teams also enjoy integration with Chrome Enterprise through Google's cloud-based Admin console, simplifying and unifying remote management of the disparate models in their fleets.
"Our Series B will be the first step of our expansion into the enterprise," said Andrew Bauer, CEO of Neverware. "With continuous support and endorsement from Google and other investors, we're confident in our ability to bring to market an operating system specifically designed for organizations entering the era of cloud computing."
Earlier this year, Neverware launched two new editions of CloudReady for VDI and Enterprise, to address the shifting technology needs of Fortune 1000 businesses.
Neverware anticipates this round of funding to close by the end of the year.
About Neverware
Neverware is a New York-based developer of lightweight desktop operating systems. Its flagship product, CloudReady, enables schools and enterprise organizations to transform their existing hardware into simple, secure, and fast machines that can be managed right alongside Chromebooks. Since CloudReady's launch in 2015, more than 1000 school districts across all 50 states and in 21 countries around the world have used CloudReady as a cost-effective way to modernize aging hardware, expand student device access, and simplify device management.
For more information, or for a free trial of CloudReady, visit www.neverware.com.