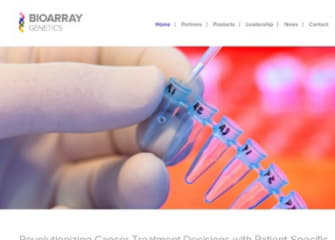 Bioarray Genetics, a personalized medicine startup, announced today that it has received $4 million in Series B Equity Financing from Quark Venture and GF Securities through their Global Health Science Fund and Connecticut Innovations.
Bioarray, a personalized medicine startup housed at UConn's Technology Incubation Program (TIP) in Farmington, is a molecular diagnostics company developing predictive cancer treatment test technology. The platform, consisting of unique genes and proprietary algorithms, provides patient-specific information to determine the optimal course of treatment.
Bioarray will use this funding to bring their first product, BA100, to clinicians and conduct R&D on other tests in the company's pipeline, including those focused on treatments for metastatic breast and colon cancers.
"Bioarray's unique approach to developing a diagnostic test is an excellent example of how genomics is advancing personalized medicine. BA100 has the potential to impact oncology care, in the very short term, by sparing patients exposure to ineffective chemotherapy and unnecessary toxicity. Bioarray's clinically validated tests are unique; there is nothing else on the market that addresses this need," said Karimah Es Sabar, Chief Executive Officer of Quark Venture and Director of GHS Fund.
BA100 is a breast cancer diagnostic test that provides actionable information about patient response to the standard of care chemotherapy treatment. BA100 is able to identify the population of triple negative breast cancer patients that have the worst survival rates and would benefit from more aggressive treatment. Bioarray's test isolates RNA biomarkers from the initial tumor biopsy, and in combination with the company's proprietary algorithms, can predict the patient's response prior to treatment.
Currently, this test is intended for patients with stage 1, 2, and 3 non-metastatic breast cancer, and is administered immediately after diagnosis before the doctor decides on the patient's treatment plan.
"We invested in Bioarray at the earliest stages of company development," said Pauline Murphy, senior managing director of investments at Connecticut Innovations. "We're excited to see the company progress to this stage and we look forward to their continued success in the future."
According to Bioarray's CEO and Founder, Marcia Fournier, this funding provides the startup with critical support to continue development of a technology that reduces healthcare costs and improves patients' quality of life.
"This new funding enables Bioarray to fulfill our mission to eliminate the trial and error approach in the treatment of cancer patients. We are excited about our growth and the ability to expand our team with diversified skills and expertise," said Fournier.
Originally based in Cambridge, Massachusetts, Bioarray chose to locate their startup in Connecticut because of the vibrant entrepreneurial ecosystem and robust state investment in bioscience, according to Fournier. She credits UConn's Technology Incubation Program with allowing her to transition from a virtual company.
"UConn is committed to supporting growing technology startups that will help continue to position Connecticut as a hub for bioscience," said Radenka Maric, UConn's vice president for research. "From world-class faculty experts to state-of-the-art facilities to our proximity to The Jackson Laboratory for Genomic Medicine—UConn has a tremendous amount to offer these companies."
Bioarray plans to explore other applications for their platform technology, which could serve as a valuable tool for pharmaceutical companies in the drug research and development process. The technology provides novel insight into the mechanism of response and interconnected cellular pathways and could be used to stratify patients in clinical trials, as well as develop companion diagnostics to improve the response rate to specific treatments.
About Global Health Science Fund
Global Health Science Fund was jointly established by Quark Venture Inc. and GF Securities in late 2016. Global Health Science Fund is a health sciences venture fund that invests globally in a diversified portfolio of innovative biotechnology and health sciences companies who are addressing unmet medical needs through innovations in drug development, medical devices, health IT and emerging convergent technologies.
About Connecticut Innovations
Connecticut Innovations (CI) is the leading source of financing and ongoing support for Connecticut's innovative, growing companies. To maximize each business' growth potential, CI tailors its solutions and often combines its funds with resources from other financial leaders to provide venture capital and strategic support for early-stage technology companies; grants that support innovation and collaboration; and connections to its well-established network of partners and professionals. For more information, please visit http://www.ctinnovations.com.
About UConn's Technology Incubation Program (TIP)

UConn's Technology Incubation Program (TIP) is the only university-based technology business incubation program in Connecticut. Established in 2004, TIP couples UConn's world-class research resources, facilities, and business support services with a network of experienced investors and entrepreneurs to help launch high-potential startups. Since 2004, the program has helped over 90 companies that have raised more than $50 million in grants and $135 million in equity and debt.https://tip.uconn.edu/