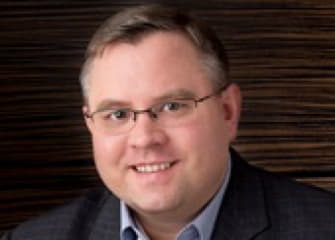 Patrick Smith
TYSONS CORNER, Va.--(BUSINESS WIRE)--Cvent, Inc., a leading cloud-based enterprise meetings, events and hospitality technology company, today announced the hiring of a new chief marketing officer, as well as three vice presidents in the company's marketing department. The hires expand and bolster the company's leadership and expertise in the department.
"Cvent's new marketing leadership joins a team of strong leaders and marketing professionals who are among the best in our industry," said Reggie Aggarwal, founder and CEO of Cvent. "One of the key aspects of the Soul of Cvent is to be in the top 1 percent, and the backgrounds and drive of these new team members exemplify that element of our company's culture. These new leaders are already making a strong impact on our mission to create technology that powers human connection."
Patrick Smith joins Cvent as Chief Marketing Officer. Most recently, Smith served as CMO at Deltek, a $500+ million enterprise software company that was recently acquired for $2.8 billion. Smith held numerous marketing roles in his 10-year Deltek career, and was instrumental in transforming the company's brand. Smith has a BBA from Penn State's Smeal College of Business Administration and an MBA from the University of Maryland's Robert H. Smith School of Business.
Brad Gillespie is Cvent's new Vice President of Marketing, focusing on enterprise, creative and meeting planning. Gillespie was most recently the CMO at Octiv, and prior to that, he was the Global VP of Marketing for SiriusDecisions, the #1 provider of SaaS marketing best practices. In his role at Sirius, Gillespie more than tripled the company's revenue. Gillespie is a former entrepreneur and he advises several SaaS start-ups.
Chris McAndrews has been hired as Cvent's Vice President of Hospitality Marketing. Most recently, McAndrews was SVP of Marketing at global corporate travel agency consortium Radius Travel. Prior to Radius, McAndrews was an SVP at Travelocity and was also the President of Digital Media at National Geographic, where he was responsible for marketing, digital strategy, technology, and sales. He is a Harvard graduate and received his MBA from Stanford business school.
Sandeep Nagpal has joined Cvent as Vice President of Marketing, leading the company's marketing organization in India. Most recently, Nagpal served as the VP of Marketing for the APAC region for SAP. Previously, Nagpal led the marketing strategy for SAP's core innovation areas including Analytics, Internet of Things (IoT) and Data Management. At SAP, he was awarded the SAP Global Marketing Excellence Award in 2016 and the SAP People's Choice Award for Marketing Innovator in 2015. Prior to SAP, Nagpal held positions at Nokia and Microsoft. Nagpal has a Bachelor's in Engineering from the University of Pune and an Executive Masters in International Business from the Institute of Foreign Trade, Delhi.
About Cvent, Inc.
Cvent, Inc. is a leading cloud-based enterprise event management company, with tens of thousands of customers and nearly 2,700 employees worldwide. Cvent offers software solutions to event planners for online event registration, venue selection, event management, mobile apps for events, email marketing, and web surveys. Cvent provides hoteliers with an integrated platform, enabling properties to increase business through targeted advertising and improve conversion through proprietary demand management and business intelligence solutions. Cvent solutions optimize the entire event management value chain and have enabled clients around the world to manage hundreds of thousands of meetings and events. For more information, please visit Cvent.com, or connect with us on Facebook, Twitter or LinkedIn.