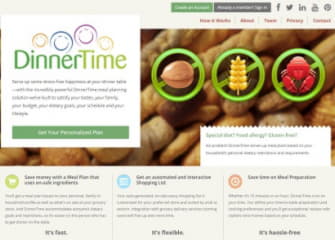 10-fold growth since 1stQ 2017 is being driven B2B2C
Personalized meal planning and sale-smart shopping technology company, DinnerTime, Inc. has announced it served more than 6 million healthy meals in the past month, a more than 10-fold increase over 1st Q 2017. DinnerTime is on track to exceed more than 10 million meals monthly by year end, a pace higher than any of the largest 'meal kit' delivery companies in the United States.
Automatically using'what's on sale' at a member's favorite grocery store, DinnerTime recommends complete meals based upon each household's unique set of tastes, budget, time constraints, cooking skill, health concerns, food allergies, and other dietary restrictions and preferences.The personalized meal plan and shopping list may be used in-store or with e-commerce 'click and collect' or home delivery as available through that grocer. Members may also choose Peapod delivery or pick-up in its 24 U.S. markets.
DinnerTime's mission is to bring millions of families back to the dinner table, healthier and happier,"shared DinnerTime CEO, Laura Moore. "Everything we do is designed to make it easy, convenient, and affordable for members to plan ahead and shop ahead for delicious meals made-at-home with great ingredients. More time with family and friends, less stress and strain."
Available both as a consumer subscription at DinnerTime.com or as a sponsored benefit through employers, health plans, grocers, and others, DinnerTime makes planning and shopping for delicious meals more convenient and affordable than ever before.
Employers and health plans sponsor DinnerTime as an easy and inexpensive way to encourage healthy eating choices, particularly for those with significant concerns about heart disease, diabetes, weight management, brain health and more. With more than 50% of all healthcare costs in the U.S. attributable to chronic health issues related to nutrition, it's no wonder that DinnerTime is an increasingly popular wellness benefit for progressive organizations such as Johns Hopkins HealthCare, the American Heart Association, the American Federation of Teachers, and many others.
For grocery stores, partnering with DinnerTime offers a unique opportunity to win-back market share from fast food and take-out, by making it easy and simple for shoppers to plan ahead and shop ahead for all the right, fresh and packaged ingredients for their household. More meals made-at-home translates to higher revenue and profit for dynamic grocers in an increasingly competitive environment.
Co-Founder Charlie Moore, shared: "Meal kits have received a lot of attention recently as they creatively address this daily 'what's for dinner' question with a plan of recipes and ingredients all in a box. However, 'kits' inherently have high price points out of reach to most families, limited SKU's, inventory management/food waste challenges, and excess packaging. In contrast, DinnerTime enables a grocer to help all of their shoppers achieve the same delicious meal results much more affordably, flexible to the budget of each household, and tailored uniquely to each family's needs and preferences."
He continued, "Programs specific to each grocer partner enable private label and prepared foods to be available and featured options. Promotional dollars can be targeted far more efficiently to reach the most relevant shopper as an integral part of their meal planning and sale-smart shopping process. The result is a win for consumers, a win for grocers, and a win for food suppliers. Win-Win-Win!"
DinnerTime members save time on planning, while enjoying healthy meals much more affordably. For instance, using on-sale ingredients, DinnerTime members can enjoy meals like sesame-crusted salmon, wild rice, and grilled asparagus, or herbed pork chops with cinnamon apples and fresh green beans, or black bean spaghetti with chunky marinara sauce, all for as little as $3 per serving. DinnerTime's more than 10 million different meal combinations of highly curated, kitchen-tested recipes meet every household's unique needs and tastes, deliciously.
About DinnerTime
DinnerTime is a rapidly growing meal planning and sale-smarttechnology company, serving members and partners nationwide. DinnerTime's powerful personalization engine combines artificial intelligence, nutritional science and behavioral science to achieve an unparalleled consumer experience. DinnerTime.com includes weekly sales at more than 15,000 grocery stores nationwide and has more than 10 million potential meal combinations with thousands of kitchen-tested recipes to deliciously address every need, taste, and budget. For more information visit www.DinnerTime.com.
Contact:Charlie Moore @Charlie@DinnerTime.com
News: https://www.dinnertime.com/content/news/