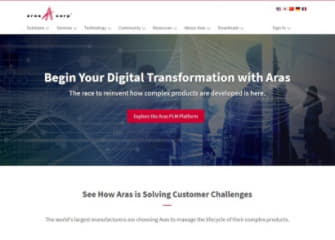 Aras®, the next leader in enterprise Product Lifecycle Management (PLM) software, today announced a $40 million investment round led by Silver Lake Kraftwerk, a fund of Silver Lake, the global leader in technology investing, with participation from GE Ventures, the investment arm of General Electric. Aras will use this minority investment to drive growth, expand operations - including Aras' world-class service and support - and further extend Aras' technology leadership through development and acquisitions.
"We invest in breakout companies that accelerate industrial transformation through a combination of technology innovation and disruptive business models," said Martin Fichtner, Managing Director of Silver Lake Kraftwerk. "Aras embodies this strategy with a game changing platform and 'SaaS Anywhere' approach that have proven very compelling to customers, and we are excited about Aras' next stage of growth."
With increasing complexity driven by the Internet of Things (IoT) and Industrial Internet - in everything from connected cars and smart homes to industrial equipment - global manufacturers are rethinking the technology that supports the business of engineering necessary to develop, produce and service tomorrow's next generation products.
"Enterprises need a much more flexible, scalable and upgradable platform for the business of engineering," said Peter Schroer, CEO and Founder of Aras. "We help companies transform and optimize every stage of the product lifecycle – by enabling the digital thread which connects data and processes from systems engineering and simulation to smart manufacturing and predictive maintenance – and creating the digital twin, the exact digital representation of a car, ship or aircraft engine."
"To power the next wave of global industrial productivity, GE is investing in critical foundational capabilities for the Industrial Internet. Aras' PLM platform delivers digital twin product configuration and digital thread traceability across the lifecycle which are critical to analyzing and interpreting data from products and the factory. As a customer, we have already seen the benefits of their PLM platform in action," said Steve Taub, Managing Director, Advanced Manufacturing & Enterprise at GE Ventures.
About Silver Lake Kraftwerk
Silver Lake Kraftwerk is part of Silver Lake, the global leader in technology investing with about $39 billion in combined assets under management and committed capital and a team of approximately 100 investment and value creation professionals located around the world. Silver Lake Kraftwerk provides growth capital to technology and tech-enabled businesses driving efficiency across the operations, energy, and resources industries. The fund targets companies globally that leverage technology and business model innovation across a number of sectors, such as transportation, logistics, manufacturing, oil and gas, power generation and transmission, energy efficiency, waste, water, and agriculture, among others. For more information about Silver Lake Kraftwerk and its entire portfolio, please visit http://www.silverlake.com.
About GE Ventures
GE Ventures identifies, scales and accelerates ideas that will help make the world work better. Focused on the areas of software, advanced manufacturing, energy and health care, GE Ventures combines equity investing, new business creation, licensing and technology transfer to deliver an innovation platform designed to drive growth for partners and GE. For more information, visit http://www.geventures.com, or follow on Twitter @GE_Ventures and LinkedIn.
About Aras
We offer the best Product Lifecycle Management (PLM) software for global businesses with complex products and processes. Advanced PLM platform technology makes Aras more scalable, flexible and secure for the world's largest organizations, and a full set of applications provide complete functionality for companies of all sizes. Customers include GE, GETRAG, Hitachi, Honda, Motorola, Textron and XEROX. Aras is privately held with global headquarters in Andover, Mass. More at www.aras.com and Twitter @aras_plm