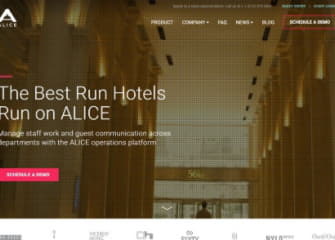 ALICE, an operations platform that empowers hotels to deliver a better guest experience through consistently excellent service, announced today it has secured $26 million in Series B funding from Expedia, Inc. (NASDAQ: EXPE), the world's largest online travel company. The completed investment makes Expedia® a majority shareholder in ALICE and deepens the commercial cooperation between the two companies that was originally established with an equity investment in 2015. ALICE intends to use the funds further the mission of delivering the very best technology and customer service in the industry. This round brings ALICE's total funding to $39 million.
As engaging digital consumer experiences continue to drive success in travel, ALICE takes the guest experience head-on, by studying not only how the internal business of a hotel runs, but also how services are delivered today in other analogous industries. This funding allows ALICE to build out its development, product, sales, and customer success teams to help the company to reach its goal of being one of the hotel industry's leading operating platforms.
"It is time for the internet to expand beyond revolutionizing how our hotel partners market and distribute their products into how they service and interact with their guests," says Cyril Ranque, President, Lodging Partner Services, Expedia, Inc. "ALICE is developing smart mobile and cloud technology to fundamentally improve the hotelier and guest experience at scale. That's a revolution worth investing in."
Justin Effron, Chief Executive Officer, ALICE says, "Our mission is to give hoteliers the ability to provide the best guest service and experience they can around the clock, and this latest round is a testament to the hard work of everyone involved. With this additional capital, we'll be better equipped to help hoteliers reach their goals of improved guest service."
A deeper relationship with Expedia continues ALICE's momentum in the hospitality industry since its inception in 2013. Earlier this year, ALICE launched products including the Guest Profile, which gives hoteliers a view into the guest experience across every aspect of their hotel stay, including check-in, requests for amenities and services, and any interaction with the concierge, Guest Text Messaging, which facilitates text messaging between hotels and guests without requiring an app download, as well as Logbooks, which can be used by hoteliers to track any physical item belonging to or loaned to a guest, including packages and lost & found. Additionally, the company launched a Preventative Maintenance tool and an open-API, and is looking forward to releasing new features for use by hoteliers such as Checklists, a tool to improve task management, SMS automation, which automates responses via text to common guest questions, and more.
In the last six months, ALICE grew its customer base nearly 200%. Recently clients signed to the platform include Two Roads Hospitality, Dream Hotel Group, SIXTY Hotels, NYLO Hotels, and Leading Hotels of the World.
For more information on the ALICE team http://info.aliceapp.com.
About ALICE
ALICE has created the first complete communication, cost savings and revenue generation operations platform for hotels, which enhances the guest experience and connects all points within the hotel to simplify guest service - and make it more cost-effective.
Since the company was founded in 2013, ALICE has gained serious traction in the industry working many of the world's leading hotel brands, including Two Roads Hospitality, Dream Hotel Group, Grupo Posadas, SIXTY Hotels, NYLO Hotels, and Leading Hotels of the World. For more information, visit http://info.aliceapp.com.
About Expedia, Inc.Expedia, Inc. is the world's largest online travel company, with an extensive brand portfolio that includes leading online travel brands, such as:
For corporate and industry news and views, visit us at www.expediainc.com or follow us on Twitter @expediainc.