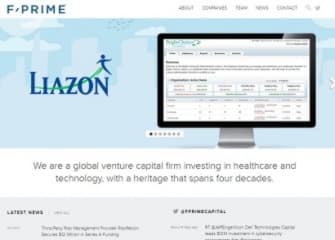 Stride Health, the leading benefits provider for independent workers, today announced a $23.5 million Series B financing round led by F-Prime Capital Partners, with participation from existing investors Venrock and New Enterprise Associates (NEA) as well as new investors including Portag3 Ventures. The additional capital will fuel the expansion of Stride Health's benefits offerings to provide today's independent workforce with the support they need to thrive.
Launched in 2014, Stride Health's platform provides independent workers with the security and peace of mind that, up until recently, was only available to those with traditional, full-time jobs. In addition to serving anyone self-employed — from real estate agents to artisans, plumbers and truck drivers — Stride partners with marketplaces and on-demand services including Care.com, DoorDash, Etsy, Instacart, Postmates, TaskRabbit and Uber, to support their independent workforces with easy access to benefits.
By empowering workers nationwide with world-class yet affordable health, vision and dental benefits, in addition to tax deduction support, Stride is leveling the playing field for today's independent workforce.
"As individuals transition away from traditional 9-to-5 employment, we're removing the barriers to affordable, accessible benefits to allow individuals to work how and when they want, without worrying about basic financial security," said Noah Lang, co-founder and CEO of Stride Health. "We founded Stride so that self-employed Americans don't have to go it alone. We have already provided hundreds of thousands of independent workers with the benefits guidance they need to build a business-of-one. I'm excited to partner with F-Prime which brings a rich history in health and financial services to deliver Stride's ever-expanding benefits to more of America's 68 million independent workers."
Stride Health helps independent workers — which, according to the McKinsey Global Institute, constitute up to 30 percent of the working age population — build a personal set of benefits tailored to their needs. In addition to a personalized health plan, Stride Health helps workers predict out-of-pocket healthcare costs, lower the cost of prescription drugs, and navigate complex insurance claims. Additionally, Stride Health members benefit from tax support through Stride Drive that last tax season identified more than $800 million in expense deductions for its members, enabling them to keep 21 percent more of their earnings. Members also rely on access to Stride's trained and licensed experts to answer any questions pertaining to benefits, entirely free.
"For the growing population of independent workers, Stride Health is meeting a critical need — providing simple and affordable access to healthcare and financial resources that improves their lives," said Ben Malka, partner with F-Prime Capital who now joins Venrock's Bryan Roberts on Stride Health's Board of Directors. "As the global workforce continues to prioritize flexibility, Stride Health provides the needed tools to transition these workers to not only secure their physical well-being but improve their financial literacy and wellness. We believe that Stride will help people choose to be independent."
About Stride Health:
Stride Health is the leading benefits provider for independent workers. The company supports individuals' physical and financial well-being with benefits guidance and a suite of insurance products for their businesses-of-one. Stride's health insurance recommendation engine connects independent workers to the best health insurance plans in all 50 states. Stride members' insurance coverage is managed by an award-winning support team and software that provides access to in-network medical practitioners, and negotiated drug prices at 70,000 local pharmacies. Stride Drive expands the suite of benefits available to independent workers with automated tax tracking and support. Based in San Francisco and available nationwide, Stride Health (www.stridehealth.com) launched in early 2014 and is venture-backed by the leading health and consumer finance firms Venrock, New Enterprise Associates, and F-Prime Capital Partners.
About F-Prime Capital Partners:
F-Prime Capital Partners is a global venture capital firm investing in life sciences, healthcare and technology. Since 1969, F-Prime has worked closely with entrepreneurs and academics to create innovative solutions to some of the world's most significant challenges in healthcare and technology. For more information, please visit www.fprimecapital.com.
About NEA:
New Enterprise Associates, Inc. (NEA) is a global venture capital firm focused on helping entrepreneurs build transformational businesses across multiple stages, sectors and geographies. With more than $20 billion in cumulative committed capital since the firm's founding in 1977, NEA invests in technology and healthcare companies at all stages in a company's lifecycle, from seed stage through IPO. The firm's long track record of successful investing includes more than 210 portfolio company IPOs and more than 360 acquisitions. For additional information, visit www.nea.com
About Portag3 Ventures:
Portag3 Ventures is an early-stage investor dedicated to backing innovating financial services companies working to benefit all consumers. Exclusively sponsored by Power Financial Corporation, IGM Financial Inc. and Great West-Lifeco Inc., Portag3 gives new ideas a unique environment to grow. Portag3 makes longer-term commitments, and combined with its industry intelligence is an ideal partner for the ambitious and creative entrepreneur. For more information, visit www.p3vc.com.
About Venrock:
Originally established as the venture capital arm of the Rockefeller family in 1969, Venrock partners with entrepreneurs to build some of the world's most disruptive, successful companies. With a primary focus on technology and healthcare, portfolio companies have included Apple Computer, Athenahealth, Centocor, Check Point Software, DoubleClick, Endeca, Gilead Sciences, Idec Pharma, Imperva, Illumina, Intel, Millennium Pharma, Nest, SlideShare and Tudou. For more information, please visit Venrock's website at www.venrock.com and follow the firm on Twitter at @venrock.