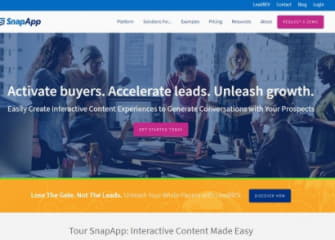 SnapApp, provider of the leading SaaS platform used by B2B marketers to create, publish, and measure interactive content, announced today that it has closed $10.2M in additional funding from its principal investor, Providence Strategic Growth, the growth equity affiliate of Providence Equity Partners. The Series B round follows a period of sustained and rapid growth for SnapApp over the past two years as interactive marketing has increasingly become a must-have for modern marketers.
Founded in 2011, SnapApp empowers marketers to create personalized interactive experiences that accelerates leads, activates buyers through the funnel, and unleash growth. Its interactive content creation platform easily lets marketers create engaging experiences for their audiences, directly integrating into top marketing automation tools, all without the need for developer resources.
"Marketers are under tremendous pressure to meet increasingly aggressive business goals – the old playbook is not getting it done," said Seth Lieberman, CEO and founder of SnapApp. "In a buyer-centric world, marketers need to deliver dynamic experiences that generate real one-to-one conversations with their prospects that accelerate pipeline creation and revenue. SnapApp's platform makes that vision a reality for thousands of marketers who are driving hundreds of millions of dollars in pipeline through interactive experiences on our platform."
This investment will be used to support SnapApp's strategic growth initiatives, including accelerating product development and innovation, sales growth, and potential acquisitions.
SnapApp has already achieved a number of important successes:
Over 10 percent of the Fortune 100 are currently using SnapApp as a key component of their marketing strategy.
SnapApp customers have published more than 25,000 interactive content experiences.
SnapApp interactive experiences have generated nearly 1 billion prospect conversations.
These experiences have generated nearly 20 million leads for SnapApp's customers.
"We are thrilled to help drive SnapApp's incredible growth and look forward to continuing to work with Seth and his team to realize their many opportunities," said Mark Hastings, managing director and head of Providence Strategic Growth. "Interactive content has gone from a niche market to a requirement, and is now a cornerstone for successful marketing teams at companies of all sizes. SnapApp is rightfully recognized as the interactive content platform of choice for B2B marketers and we are excited about their potential for continued growth."
About SnapApp
SnapApp empowers marketers to create personalized interactive experiences that activate buyers, accelerates leads through the funnel, and unleashes growth. SnapApp's drag-and-drop interface allows marketers to build any type of interactive experience and deploy it across multiple channels. Seamlessly integrated with the rest of their marketing technology stack, marketers gain critical insights to better personalize their marketing and create deeper engagement with their prospects.
Backed by Providence Equity Partners, SnapApp customers include Paycor, Cisco, CEB, Hewlett Packard Enterprise, Blackbaud, and Equifax. Visit SnapApp on the web at www.snapapp.com or follow on Twitter @snap_app.
About Providence Strategic Growth
Providence Strategic Growth Capital Partners L.L.C. ("PSG") is an affiliate of Providence Equity Partners L.L.C ("Providence"). Established in 2014, PSG focuses on growth equity investments in lower middle market software and technology-enabled service companies, primarily in North America. Providence is a premier, global asset management firm with $50 billion in capital under management across complementary private equity and credit businesses. For more information on PSG, visit provequity.com/private-equity/psg and for more information on Providence Equity, please visit provequity.com.