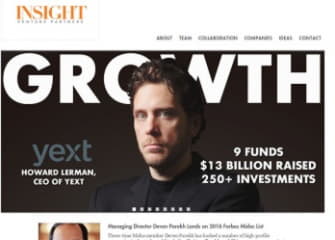 FilmTrack, the leading end-to-end rights management solution that helps media and entertainment companies manage and monetize their intellectual property, has secured $5.5 million in Series C Funding from Insight Venture Partners. This additional investment will bring the total equity raised to over $40 million, allowing the company to further advance their comprehensive SaaS rights management solutions.
"This additional capital demonstrates Insight Venture Partners' commitment to our core business model and future growth," says Jason Kassin, CEO of FilmTrack. "We look forward to putting this capital into our platform in order to accelerate our positioning as the clear leader for rights management within the media and entertainment industry."
FilmTrack's business has more than tripled since Insight Venture Partners first partnered with the company in 2013. Insight's new round of funding will elevate FilmTrack's growth and innovation throughout 2017 and beyond.
This funding follows pivotal company milestones, including:
The complete integration of acquired Jaguar functionality into their unified code base, allowing deeper financial capabilities pertaining to Royalties and Participations.
Contracting enterprise clients including NBCU, CBS, Scripps, and DHX; each use the FilmTrack solution to power their back offices and connect with internal and external business units, enabling them to maximize their intellectual property and unlock hidden revenue.
Full integration with EIDR, the Entertainment Identification Registry, and GoodData, the leading provider of business intelligence for data monetization.

FilmTrack's integrated, cloud-based SaaS platform has proven successful in helping clients enhance productivity, increase collaboration across business units, and exploit revenue opportunities. FilmTrack continues to solidify its position as the best rights management solution across the global media and entertainment industry. This latest round of funding is earmarked for major product enhancements – including an enhanced UI/UX, expanded reporting and analytics tools, and a deepening of the already robust finance and accounting capabilities.
"No other company in the media and entertainment industry comes close to delivering the robust capabilities that the FilmTrack solution provides," says Peter Sobiloff, Managing Director at Insight Venture Partners. "This additional round of financing represents another important step in building FilmTrack into one of the most sought-after end-to-end rights management solutions in the world."
About FilmTrack:
Founded in 1996, FilmTrack is the leading end-to-end rights management solution, providing a unified single platform for contracts, rights, royalties, and financials. FilmTrack's mission is to simplify the complexities of managing and licensing intellectual property. FilmTrack's SaaS platform provides the tools to manage mission-critical data, including contracts, rights, royalties, financials, and asset management, all in one solution. Visit http://www.filmtrack.com to learn more.
About Insight Venture Partners

Insight Venture Partners is a leading global venture capital and private equity firm investing in high-growth technology and software companies that are driving transformative change in their industries. Founded in 1995, Insight has raised more than $13 billion and invested in nearly 300 companies worldwide. Our mission is to find, fund and work successfully with visionary executives, providing them with practical, hands-on growth expertise to foster long-term success. For more information on Insight and all of its investments, visit http://www.insightpartners.com or follow us on Twitter: @insightpartners.