Friends and business associates Liana Bateman and Karla Kay plan to open three "reformer-based" pilates studios in greater metropolitan Baltimore region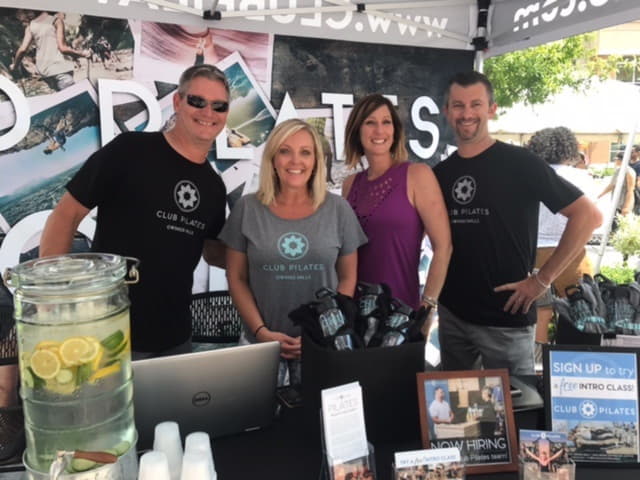 Kurt Kay, Karla Kay, Liana Bateman, Dave Bateman
Friends and business associates Liana Bateman and Karla Kay live in southern Pennsylvania, but have chosen Baltimore County as the location for the initial three Club Pilates studios that they intend to open within the next six months. The women entrepreneurs selected Metro Centre at Owings Mills, a Transit-Oriented Development (TOD), located in the Owings Mills section of Baltimore County, as the site of their first location in Baltimore County and intend to open later this month. Bateman and Kay have also signed a lease at Hunt Valley Towne Centre and are currently scouting for a third site within the greater Baltimore metropolitan region.
"We were attracted to the energy of Baltimore County, and the high level of interest in and engagement of fitness activities among the consumer population," explained Karla Kay who, along with her husband, own and operate a home care franchise company in Pennsylvania as well as a family foundation and a small craft brewery. "Liana and I are following our dreams, leveraging our skill sets and meshing our passion in fitness to pursue this opportunity. We believe Baltimore County offers the ideal demographics to support this concept."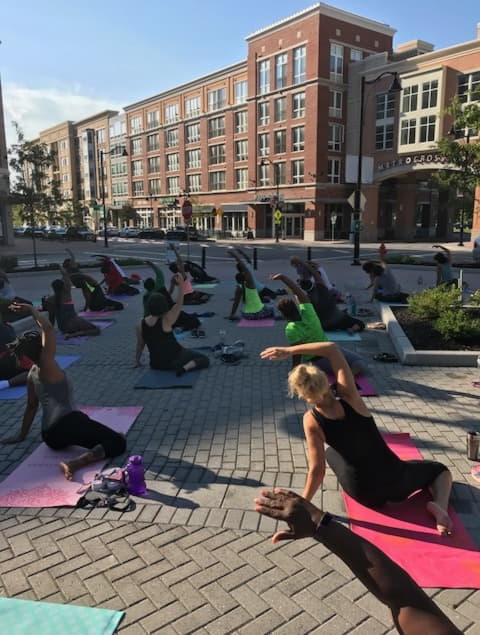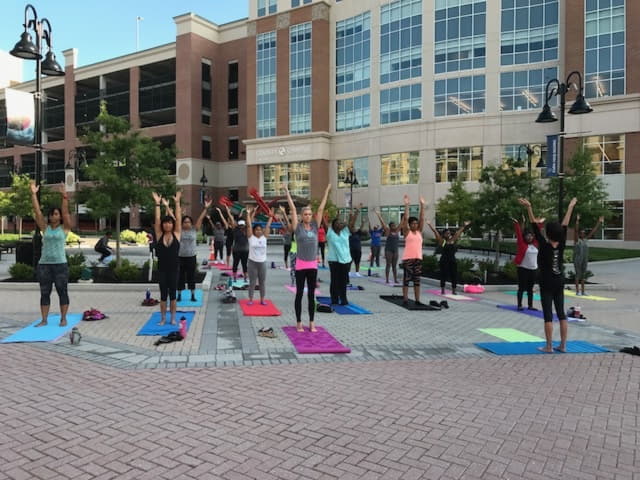 Club Pilates organized a demonstration for prospective new members this weekend at Metro Centre
Club Pilates utilizes a signature "reformer-based" approach which is designed to strengthen and lengthen the entire body during the fifty-minute workout. Four different levels, involving different intensities are available including foundation, progression, evolution and mastery. The reformer concept utilizes Pilates machines and equipment and that is designed to create a full-body workout for every fitness level.
Another differentiating feature of Club Pilates is the level of experience that is mandated by the instructors. "Our instructors must complete a minimum of 500 hours of comprehensive training," explained Liana Bateman, who has been friends with Kay for more than ten years and worked in a marketing capacity for the home care company and the various business entities. "This means every class is led by a seasoned professional with an intimate knowledge of Pilates. We have recruited the instructors needed for this month's opening by are still actively recruiting for new positions. And, we also offer teacher training for individuals that wish to pursue becoming an instructor."
Metro Centre at Owings Mills encircles the Owings Mills Metro Station and includes restaurants Eggspectation, Times Square Kitchen, U Food Grill, Fractured Prune and Subway. Recently signed leases include World of Beer, Hammer & Nails and Metro Wine & Spirits. Metro Centre at Owings Mills is being developed by Owings Mills Transit, LLC and is managed by David S. Brown Enterprises, Ltd.
The TOD is designed to support more than 1.2 million square feet of Class "A" office space; 200,000 square feet of complementary retail space; 1700 residential units; educational facilities totaling 120,000 square feet and a hotel offering 250 rooms.
"We perceive Metro Centre at Owings Mills as fresh and new," Kay added. "We expect to draw customers from the nearby universities, from people that take the metro to go to work, as well as residents and the local community. The healthy eating restaurant options contained within the project are another plus," she said.
Club Pilates offers numerous membership options including four-pack and eight-pack, as well as a drop-in choice. "Classes fill up quickly, and there are perks with the unlimited monthly package," Bateman said. "Choosing the monthly package also provides the flexibility to choose classes that best fit an individual's schedule."
David S. Brown Enterprises, LTD., founded in 1933 and headquartered in Owings Mills, MD, is a full-service real estate company providing leasing, sales and management services. For additional information, visit www.davidsbrown.com