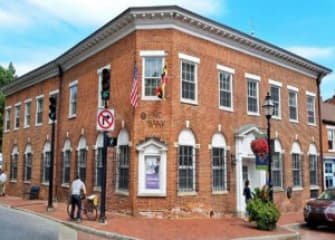 Divaris Real Estate, Inc. (DRE), announced the completion of the following transactions in the greater Washington, DC metropolitan market, totaling 10,836 square feet of retail space.
Douglas Development Corp. purchased an 8,140-square-foot PNC Bank retail property located at 18 Church Circle in Annapolis, Maryland for $2.3 million. DRE's Joe Farina represented the seller, PNC Bank. The property is a landmark, two-story office and retail building in historic Annapolis that was built in 1701. It has been well maintained under the historic provisions of Downtown Annapolis. The building's prominent location at the intersection of Main Street and Church Circle, one of 4 main traffic circles in Downtown Annapolis, is the heart of the City's main commercial corridor.
Center for Autism and Related Disorders leased 2,696 square feet of office space at 4141 North Henderson Road in Arlington, Va. Michael Divaris represented the tenant in the lease negotiations.
About Divaris Real Estate
Divaris Real Estate, Inc. is headquartered in Virginia Beach, VA with offices in Newport News, Norfolk, Richmond and Roanoke, VA; Charlotte, NC; Beverly Hills, CA; and Washington, DC. Divaris Real Estate and Divaris Property Management Corp. are divisions of The Divaris Group, an international real estate brokerage and property management company that currently manages and/or leases over 31 million square feet of prime office, retail and industrial space from New Jersey to Florida. Gerald S. Divaris is Chairman of the Board, and Michael B. Divaris is President of Divaris Real Estate, Inc.
Divaris Real Estate is a member of Realty Resources, (http://www.realtyresources.org/) a national group of independent retail property brokers and managers, covering 91 major markets throughout the U.S. DRE is also the Virginia affiliate for The CORE Network, (http://www.corenetworkcre.org/) a national group of office and industrial brokers with affiliates throughout the U.S., Canada, Mexico, Asia and Europe. These organizations represent corporate and institutional clients, tenants and buyers in all aspects of leasing, development, management, sales and acquisitions.