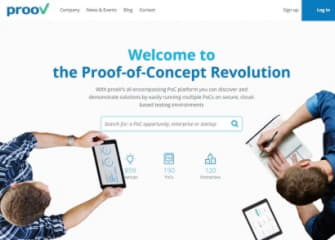 prooV, the world's first Pilot-as-a-Service platform that facilitates and streamlines the Proof-of-Concept (PoC) process for startups and enterprises, today announced its $14 million Series B funding round led by Helios Capital and Mangrove Capital Partners. OurCrowd and Cerca Partners also joined the round, bringing the total financing of the company to $21.1 million.
prooV was founded with the goal of solving the headaches involved in running an effective PoC for both the startup and enterprise. prooV manages the entire PoC process, from the discovery via its PoC and solutions marketplace, to testing via deep mirroring of the enterprise testing environment, through to the deployment of the technology on the enterprise's production servers. By running multiple PoCs safely and securely on prooV, enterprises and startups, save invaluable time and money compared to traditional processes. The interest in the platform has put prooV on an accelerated growth path. The company will use the funding to increase its operational footprint and headcount, and continue to enhance the platform offering. prooV will also establish a New York City office to support its expanding North American client portfolio.
"We have seen incredible demand for our platform from both leading startups and global enterprises, which came as no surprise since prooV was born out of the very serious pain points we ourselves felt from building technology companies over the years," said Toby Olshanetsky, CEO and co-founder of prooV. "This new round of funding will help us continue to facilitate more PoCs using our proprietary technology, and push further into more industries and markets across the globe."
Since its global launch in September 2016, prooV has experienced widespread growth from enterprises across virtually every industry that are looking to find, test-drive and implement the latest innovations. To date, prooV has over 1,000 companies signed up to its platform.
"prooV has emerged as the only platform that's truly addressing the PoC headache permeating businesses today," said Edouard Ullmo, Managing Director at Helios Capital. "At a time when organizations are inundated with the latest and greatest technologies to retain their competitive advantage – whether it's cybersecurity, blockchain, mobile or many others – prooV serves as the nucleus of innovation for both startups and enterprises."
"CIOs are key in selecting and adopting new technologies within organizations," said Roy Saar, Partner at Mangrove Capital Partners. "We at Mangrove recognize and invest in companies we believe have the true potential to ease CIO's lives. WalkMe, which also just announced a big round of funding, addresses this with their Digital Adoption Platform, while prooV does so with its one-of a kind PoC platform."
About prooV
prooV™ (https://proov.io) is the first Pilot-as-a-Service platform that brings together global enterprises and startups to discover, connect, execute and evaluate Proof-of-Concepts (PoCs) through remote, secure and data-rich testing environments. Founded by serial entrepreneurs who recognized the inefficiencies in the modern PoC process, prooV offers a radical new approach to testing, tracking and analyzing vendor solutions, accelerating the journey from RFP to PoC.