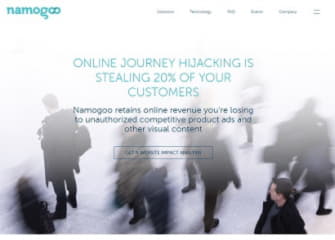 BOSTON--(BUSINESS WIRE)--Namogoo today announced that it has raised $8 million in a Series A round led by GreatPoint Ventures with Blumberg Capital and Inimiti Capital also participating in the round. The funds will primarily be used to open the company's U.S. headquarters in Boston and to accelerate growth in the U.S. market through product development and marketing. Ashok Krishnamurthi, managing partner at GreatPoint Ventures, and David Blumberg, founder and managing partner at Blumberg Capital, will join Namogoo's Board of Directors. Namogoo has expanded its advisory board with the additions of Roy Rubin, founder of Magento, and Guy Schory, former senior executive at eBay and PayPal. This brings the company's total funding to $14 million.
Often undetected, ecommerce sites are being hijacked by online "hawkers" – outside merchants who nest shady product advertisements and deceptive links that lure shoppers in or drive them away. Namogoo is pioneering the market of Journey-Hijack Prevention with the only technology platform designed to identify and block these unauthorized product ads. By eliminating these invasive promotions, Namogoo consistently recovers up to 90 percent of stolen revenues for retailers' online stores.
"The complex and growing issue of Journey Hijacking has an untold impact on the online economy. Nearly every major ecommerce site is vulnerable to such threats that severely damage the customer journey – yet so much of this goes undetected," said Chemi Katz, co-founder and CEO of Namogoo. "With Namogoo, retailers can easily prevent hawkers from disrupting the customer experience – protecting their brand and winning back customers and earnings, while making way for new growth."
Namogoo uses cloud-based software and proprietary analytics to detect and block the evasive content spread across ecommerce sites. Rather than being installed on the server, Namogoo tracks and analyzes billions of web sessions from the server all the way to customers' browsers.
"The company takes a whole new angle to preserving the customer journey that leverages unique, proprietary Machine Learning and Big Data technologies to analyze and mitigate evolving threats in such a dynamic environment – at scale," said Ohad Greenshpan, co-founder and CTO of Namogoo.
"Most ecommerce professionals may not be aware that Journey Hijacking is happening on their sites or that they are losing customers and revenue as a result," said Ashok Krishnamurthi, managing partner at GreatPoint Ventures. "Namogoo has identified a critical flaw in the ecommerce experience and is opening online retailers' eyes to the extent that Journey Hijacking is plaguing their online stores. This is exactly the disruptive technology we are looking to invest in as a fund."
About Namogoo
Headquartered in Boston with offices in San Francisco and Israel, Namogoo is pioneering the market of Journey-Hijack Prevention. The company's disruptive technology is designed to identify and block unauthorized product ads injected into web sessions that are diverting the customer journey and hurting conversion rates. The world's largest retailers rely on Namogoo to eliminate invasive promotions and consistently recover revenue for online stores. For more information, visit www.namogoo.com.