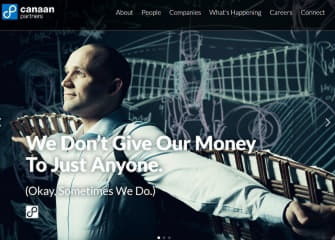 SAN FRANCISCO--(BUSINESS WIRE)--Node emerges from stealth today and announces $16.3 million in financing to revolutionize how people and businesses discover new opportunities on the web. Through proprietary artificial intelligence technology, Node automatically delivers valuable, relevant and timely information about people and companies to help its customers understand who they should engage with and why.
Founded by Falon Fatemi – who at 19 became one of the youngest employees at Google – and with backing from renowned entrepreneur Mark Cuban, Node enables proactive and instant discovery without having to search.
"Ninety percent of the information on the web was created in just the last two years and that pace is only increasing. Search is great when you know what you're looking for, but what about the people and companies on the web you don't know you should be looking for," said Node Founder & CEO Falon Fatemi. "With Node, we're creating a new paradigm in how people and businesses build connections and realize new opportunities. Helping companies discover their next best customers is just the start."
Node is currently focused on enabling more effective customer discovery for sales and marketing teams, and has been in stealth mode for the past 18 months. During that time, Node has been working with select enterprise customers and is now making its patent-pending discovery engine available to businesses worldwide. Node's relationship graph includes over half a billion rich profiles of people and companies, each loaded with valuable insights that can be leveraged to engage the right people, at the right time, and with the right message, enabling discovery of the next markets of opportunity.
"Data by itself is not valuable. Leveraging data to create actionable recommendations and deliver them at the right time, however, can be transformational. By applying a people-centric methodology and using the latest AI technology, Node has created a prescriptive recommendation engine that will transform how business gets done," said investor Mark Cuban.
While in stealth, Node has grown quickly, doubling revenue in the last six months alone and is already helping thousands of salespeople and marketers optimize more than $4 billion in revenue at companies like BlueJeans Network, Periscope Data, Pagerduty, Outreach.io, and others. Node has a native integration with Salesforce, where it helps sales and marketing teams discover new potential customers without needing to modify existing workflows. As a result, Node customers recoup the cost of their investment in as little as eight weeks and have generated nearly $103 million in total revenue from Node recommendations.
"Node uncovered more than $1 billion in new market opportunity," said Node customer Jerry Clarno, Vice President of Sales at Periscope Data. "Node's data intelligence has allowed our sales team to execute on that opportunity at scale and has paid for itself multiple times over."
Node's funding includes a new $10.8 million Series A funding round led by Avalon Ventures with participation from existing investors Mark Cuban, NEA, and Canaan Partners. New investors in the Series A include GREE Inc, Industry Ventures and Michael Stark – the co-founder of Crosslink Ventures. Other prominent Node investors include Gartner-owned CEB Ventures, Bee Partners and Sway Ventures.
Node's impressive leadership and advisory team is comprised of experienced data engineers and technology entrepreneurs, including PhDs from Google, Facebook and Microsoft, the former CTO of Euclid Analytics, the former head of engineering for LinkedIn and Facebook Search, the founder of Alta Vista, and the former product lead for LinkedIn Sales Navigator, among others.
"AI will change the way we discover information and Node is at the forefront of driving the paradigm shift from search to discovery - its demonstrable impact on sales and marketing is just the beginning. In the future Node's technology can be applied to facilitate discovery for businesses and consumers across use cases ranging from recruiting to uncovering your next job opportunity," said General Partner, Rich Levandov from Avalon Ventures. "You can think of it as technology that accelerates serendipity."
ABOUT NODE
Node understands the vision for the business you want to become and delivers a roadmap to get you there. Node's proprietary artificial intelligence technology revolutionizes the online discovery process by making sense of the relationships between people and companies on the web. Sifting through these connections, Node surfaces people-based intelligence to identify the total market opportunity for leading companies and proactively delivers personalized insights and tactical guidance that leads to bigger, better deals. To date, Node has optimized $4 billion in revenue across thousands of sales and marketing leaders, generated over $103 million in customer revenue, and delivered return on investment in as little as eight weeks. Node was founded by Falon Fatemi – one of Google's youngest employees – and is backed by Mark Cuban, NEA, Avalon Ventures, and Canaan Partners. Learn more about how Node is connecting people to opportunity at www.node.io.