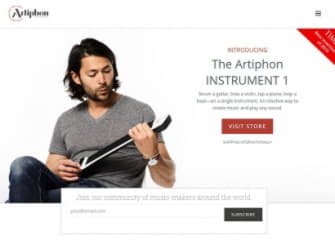 The Artiphon INSTRUMENT 1 is a revolutionary musical instrument that anyone can play. Funded by Steve Case, 500 Startups, and Eric Ries, and named one of TIME Magazine's best inventions of the year, the product is the #1 crowdfunded musical instrument with over $1.3M raised from 3.3k+ backers.
Unlike traditional instruments, the INSTRUMENT 1 adapts to the user and lets anyone play music in minutes, regardless of skill level. Artiphon's patented technology can be played as a guitar, violin, piano, drum, and many other instruments, and connects with hundreds of apps like GarageBand to explore any sound imaginable.
The company has now shipped their first batch of 5k instruments, and the product is a best-seller at the MoMA Design Store in NYC and Tokyo. Artiphon is poised to change the way music is learned and played throughout the world, and is now ramping up distribution, launching education pilot programs, improving the product experience with continued software development. In addition to their Kickstarter success, Artiphon and has raised $1.075M to date with $375k committed in their current funding round.