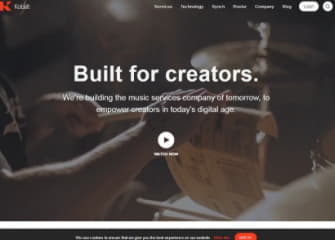 Kobalt, the leading global music services company, today announced it has raised $75 million in growth capital. The Series D round was led by Hearst Entertainment with participation from Balderton Capital and MSD Capital.
Kobalt, which represents many of the world's top artists, publishers and songwriters, will use the new funding to further scale its unique royalty collections platform to meet the demands of the global surge in music streaming. The company's platform is optimized to collect royalties faster and more efficiently, and also allows its clients to see when, where and how fans engage with their music.
"From the start, my vision for Kobalt has been to transform the music industry and help take it into the digital age," said Willard Ahdritz, founder and CEO of Kobalt Music. "With the high growth of streaming and the billions of microtransactions that take place per song, the music industry is more complex than ever. Guided by core principles of transparency, technology, and putting creators first, I have never been more sure that our platform, combined with our global creative team, is the right one to serve creators and rights owners in the rapidly evolving digital music environment."
"The music industry is growing revenue again and it's due to the meteoric rise of music streaming on services like Spotify, Apple, Google, Amazon and Pandora," said Neeraj Khemlani, president of Hearst Entertainment. "Willard has brilliantly positioned Kobalt to be an important company at the center of this booming industry by building an invaluable platform for artists, songwriters and third party labels and publishers looking to have complete, real time transparency into how their music is being consumed and thereby collect royalty revenue more efficiently and faster than ever before."
Ahdritz added, "We are excited to welcome Hearst as a new investor in Kobalt. They share our passion for making sure creators are paid and fully informed. Hearst is a prominent content owner with exciting investments in new forms of entertainment for the next generation of consumers. We welcome them on the board of Kobalt."
A Kobalt Progress Report
Kobalt's unique global rights management platform delivers, on average, more than a 25 percent uplift in revenue for Kobalt clients and collects royalties two to three years faster than the industry standard. The company forecasts a further increase in collections as streaming continues to grow and more markets are monetized. Since Kobalt's last funding round in 2015, the company has continued its global expansion in publishing and recordings, become the world's largest private neighboring rights agent, and launched AMRA as the only global digital collection society. Today, Kobalt is uniquely able to cover the entire value chain for artists, songwriters, rights owners, and publishers with total transparency and efficiency.
The company also delivered important technology milestones:
The Kobalt App - Developed for songwriters and publishers to view all their rights globally and see how each song, by right type, directly translates into income.
The AWAL App - Developed for independent artists to visualize their streaming performance across Apple Music and Spotify, including corresponding fan demographics, AWAL curated data-driven insights, and comprehensive royalty revenue.
About KobaltKobalt is the world's leading independent music services company, built for artists, songwriters, publishers and labels as an alternative to the traditional music business model. Kobalt's commitment to technology, transparency, and creators' rights has driven tremendous growth year-over-year for the company and its clients. Today, Kobalt's Music Publishing, Neighbouring Rights, and Recordings/AWAL divisions serve over 25,000 songwriters, 600 publishers, and 20,000 independent artists, including The Chainsmokers, Kelly Clarkson, Miles Davis, Dave Grohl, Dr Luke, Zayn Malik, Max Martin, Paul McCartney, Stevie Nicks, Pitbull, Elvis Presley, Skrillex, Sam Smith, and many more. Kobalt represents on average over 40% of the top 100 songs and albums in both the US and UK.
Kobalt's global technology platform is uniquely able to track and collect royalties for the billions of micro-payments per song in digital music today. Kobalt offers its clients a variety of services, including creative services, synch & brand partnerships, global licensing management, neighboring rights, works and rights distribution, royalty collection and processing, the Kobalt and AWAL Portals and Apps, YouTube monetization, record release management, digital distribution, and marketing. For more information on Kobalt, please contact: info@kobaltmusic.com, or visit us at www.kobaltmusic.com
About Hearst
Hearst Entertainment is a unit of Hearst, one of the nation's largest diversified media, information and services companies with more than 360 businesses. Hearst's major interests include ownership in cable television networks such as A&E, HISTORY, Lifetime and ESPN; majority ownership of global ratings agency Fitch Group; Hearst Health, a group of medical information and services businesses; 30 television stations such as WCVB-TV in Boston and KCRA-TV in Sacramento, Calif., which reach a combined 19 percent of U.S. viewers; newspapers such as the Houston Chronicle, San Francisco Chronicle and Albany Times Union, nearly 300 magazines around the world including Cosmopolitan, ELLE, Harper's BAZAAR and Car and Driver; digital services businesses such as iCrossing and KUBRA; and investments in emerging digital and video companies such as BuzzFeed, Vice, Complex Networks and AwesomenessTV. Follow us on Twitter @HearstLive and @Hearst, and subscribe to Hearstlink.