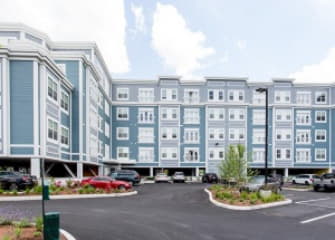 Taurus Investment Holdings, LLC, a private global real estate investment firm, announced today the acquisition of Wellington Parkside from SMC Management for a purchase price of $56 million. The community, built in 2015, is a 190-unit, Class A apartment complex located in Everett, Massachusetts.Terence Scott of TMS Real Estate Investment Advisors, Simon Butler and Biria St. John of CBRE New England marketed the property for sale on behalf of SMC Management.The acquisition of Wellington Parkside, located at 12 Valley Street, will boost Taurus' Greater Boston multifamily portfolio (containing approximately 1,230 units) toover $200 million.
"We are excited about our recent acquisition," says Peter Merrigan, CEO of Taurus Investment Holdings. "The combination of major area developments, including Assembly Row, Station Landing, and the future Wynn Casino, coupled with transportation infrastructure providing access to Boston were attractive attributes to the opportunity. With modest property improvements, combined with Taurus management and marketing approach, we believe the property will be well positioned to take advantage of the positive changes to Everett and the overall dynamics of Boston's urban-infill submarket."
Wellington Parkside is located just 4 miles from downtown Boston in one of the most progressive up-and-coming satellite cities, offering direct access to Boston and Cambridge's continuously growing employment market, as well as their lively retail and restaurant locations. As Taurus will be working with The Dolben Company for management of the asset, Taurus believes the overall asset value could increase noticeably over the next few years.
About Taurus Investment Holdings, LLC
Established in 1976, Taurus is a Real Estate Private Equity Company and active deal participant in thirty markets around the world. Through fully owned local subsidiaries (regional office model) such as advisory, property management and value add development companies, Taurus, together with its international private investors and strategic joint venture partners, leverages its local market proficiency and performance record to capitalize on select investment opportunities. www.tiholdings.com.