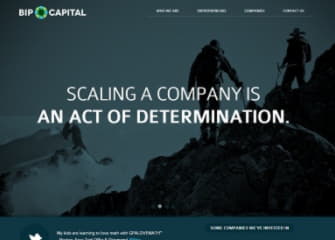 BIP Capital, one of the premier investment firms in the Southeastern United States, announced today it has merged with Accelerant Venture Capital. Paul Iaffaldano, founder and managing partner of Accelerant, will join BIP Capital as managing director and will help lead the growth of the firm's venture technology companies. Mark Buffington, who previously held the managing director title, has been promoted to CEO.
BIP Capital has raised four funds and invested nearly $200 million since its founding a decade ago, with almost 80 percent of its current investments based in Georgia and the metro Atlanta area. Its portfolio spans more than 25 early-stage and growth companies, including such local names as AchieveIt, Ingenious Med, PlayOn! Sports, QA Symphony and Vendormate.
With over 30 years of experience building the value of market-leading companies, Iaffaldano's successful exits include Blinq Media, BrightWhistle and SeniorLiving.net. His career also includes executive positions at The Weather Channel Companies, The Travel Channel, Walt Disney Company and others. Accelerant operated a $25 million early-stage fund that will now move under BIP Capital's helm. Iaffaldano has made 24 investments over the last eight years, and has achieved outstanding returns for his investors.
"As BIP Capital continues to grow in scale, both in terms of dollars entrusted to us and in the number of portfolio companies, we had a real need to grow our team," said Buffington. "Paul is a highly successful investor with significant experience growing and scaling businesses in many of the same spaces we invest in. Just as importantly, his approach to taking risk and helping portfolio companies scale is similar to ours—he's the right fit within our group. We look forward to broadening our bandwidth through his leadership and expertise in order to grow even more thriving companies."
"When I was first building Accelerant eight years ago, I remember looking at other firms in the Southeast and realizing that BIP Capital was the type of firm I wanted to be," said Iaffaldano. "I'm honored to now be joining them as managing director. BIP Capital is one of the largest and most successful venture firms in the Southeast, and together we'll be able to achieve even stronger results across a greater number of investments than before."
Iaffaldano added that, "Picking the right company to invest in is only half the battle. The real success comes from taking a disciplined, systematic approach to help grow businesses faster. This concept is the ingredient that has driven the performance of both firms."
BIP Capital is unique in the investment landscape in that it takes an entrepreneur-first approach that focuses on partnering with young companies to develop their internal operations so they grow into sustainable businesses. The BIP Capital team is comprised of investors who have built and successfully scaled companies themselves, and who use that knowledge to better engage with portfolio companies to help identify and address challenges that come with growth. Conversely, many investment firms focus on short-term profit over growing businesses that are sustainable in the long-term.
"I've worked with both Mark and Paul for a number of years, and they have been very instrumental in our continued growth," said David Rudolph, CEO of PlayOn! Sports, the nation's leading high school sports media company. BIP Capital and Accelerant have co-invested in PlayOn! Sports. "There's great synergy between Paul and the BIP Capital team, and I believe the merger will be advantageous for the startup scene in Atlanta as well as the region."
BIP Capital continues to take a keen interest in the emerging business ecosystem in Atlanta and the Southeast, and is active with the Metro Atlanta Chamber of Commerce and others in initiatives to grow and connect the local technology startup community. In February, four of BIP Capital's portfolio companies—Ingenious Med, mLevel, QA Symphony and UserIQ—were recognized by the Technology Association of Georgia as part of its "Top 40 Most Innovative Technology Companies in Georgia."
About BIP Capital
BIP Capital is recognized as one of the most active and successful venture investors in the Southeast, serving entrepreneurs, investors, and operators to grow the emerging company ecosystem. It applies experience and process to make investment decisions and operational recommendations, allowing its portfolio companies to achieve and stay on a glide path of growth. Areas of focus include Software, Healthcare IT, Digital Media, Franchise and Ed Tech. For more information, visit www.bip-capital.com or follow BIP Capital on Twitter @BIPCapital.