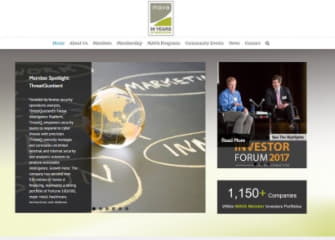 IoT, HealthIT, Competitive Gaming, Education, and Data Analytics Among Top Industry Sectors Represented
As part of MAVA's ongoing commitment to foster seed and early-stage company growth, the latest group of 18 startup companies have been selected from a range of industry sectors to be showcased on stage at the first installment of MAVA's year-long TechBUZZ program for 2017. Since the program was launched in 2011, TechBUZZ presenting companies have received more than $576M in aggregate disclosed funding, with many more investments and acquisitions made under undisclosed terms.
The TechBUZZ Spring program will provide an unparalleled opportunity for these 18 selected companies to share their company launch and fund-raising pitch, in a four-minute format, along with their demo with an audience of hundreds of business leaders, fellow innovators, experienced company-builders, corporate strategic partners, potential acquirers and active investors. The event will be held on March 30th at the FHI 360 Conference Center, located at Dupont Circle in downtown Washington, DC.
"By consistently presenting promising, fundable and market-ready business start-ups, TechBUZZ provides a uniquely independent platform and one of the most recognized of its kind in the country, attracting both promising tech and tech-enabled companies, along with investors and collaborators who follow companies that have earned one of the coveted spots on the program to present at TechBUZZ," said Julia Spicer, Executive Director, MAVA. "In addition to hitting the radars of potential investors, selected companies benefit from increased visibility and industry interest which helps to secure new customers, hire talent and garner important market mind-share."
Providing Solutions to Business, Consumer and Health Industry Problems
"Successful companies are best known for providing solutions to real world business and consumer problems," continued Spicer. "Specific solutions being addressed by the Spring line-up of presenting companies range from connecting autonomous vehicles and fleets to improve functionality; providing convenient and difficult to access child-care transportation options; providing real-time coaching access for the white-hot gaming industry; providing data transparency to specialty pharmacy patient services; and bringing enterprise cloud connectivity to existing industrial infrastructure."
Featured TechBUZZ presenting companies were selected because of their innovative technology, approach to a commerce or enterprise problem, or perhaps a new twist to a market maker's approach, making TechBUZZ a nationally watched platform by industry and investors, from seed to later stage interests. Collectively the presenting companies provide a representative showing of industry start-ups and businesses being launched across a broad range of sectors including healthIT, software, hospitality, ecommerce, IoT, AI, data analytics, business productivity, and many others.
Each of the startups chosen for the 18 formal presentation slots will take the stage for four minutes to describe their respective company, business vision, and product or service. Presenting companies were selected from a highly competitive pool of diverse startups by a review committee of more than 20 MAVA member investors and business advisors. The Review and Selection Committee for the TechBUZZ Spring edition was co-chaired by Dan Henderson, Investment Director, CIT Gap Funds and Sean Dowling, Vice President, Osage Venture Partners.
Ranging in development from nascent to seed stage, the startup companies presenting at TechBUZZ Spring reflect the strength of the East Coast as the birthplace of game-changing innovations. The 18 companies on stage for this edition of TechBUZZ represent startup communities across New York, New Jersey, North Carolina, Virginia, Maryland, Pennsylvania, California and Washington, DC.
TechBUZZ is a uniquely independent platform followed regularly by industry and investors across the US and is recognized by business leaders across the country as one of the premier venues for credible early companies coming to market. Having showcased more than 300 competitively-selected companies since the program's founding years, the TechBUZZ program surfaces some of the latest industry trends to watch.
What Recent Presenting Companies Have to Say
Techbuzz provided insight and incredible coaches to hone our pitch. It was by far the best run event we have participated in. TechBUZZ served as the perfect kick-off to our fundraising efforts and provided an excellent opportunity for networking and valuable introductions. Dan Cowens, CEO of Snag-A-Slip (Fall 2016, with $1.2M in reported financing, February 2017)
An open and highly educational experience. TechBUZZ is structured in a way where it forces entrepreneurs to think about their product from the perspective of many differing levels of understanding and thereby simplifying their message and business model. Matthew Carroll, CEO of Immuta (Fall 2015, with $8M in reported financing, February 2017)
The TechBUZZ Spring Presenting Companies Are:
| Company | Headquarters | Industry | Description |
| --- | --- | --- | --- |
| 2ULaundry | Charlotte, NC2ULaundry.com | Logistics / Sharing Economy | 2ULaundry is a laundry and dry cleaning service to help people make time for what matters most in their lives. Customers easily schedule orders through their online account or via text, and 2ULaundry picks up, cleans, folds and then returns clothes in 1 business day. |
| Centriq Technology Inc | San Francisco, CA & Washington DCcentriqhome.com | Data / Analytics | Centriq is a B2B2C data company. We have built a digital User Guide platform technology that is customized to each home, based on the unique appliances and other items in the home. |
| eTrans Systems | Fairfax, VAeTransSystems.com | Autonomous Connected Vehicles | eTrans provides software solutions for autonomous and connected vehicles. eTrans' Flowz is a Autonomous Fleet Command, Safety and Optimization platform. Customers use Flowz to help control fleets of autonomous vehicles. eTrans has also developed Connected Vehicle DSRC applications for both RoadSide Units and Onboard Units. |
| Fixt, Inc. | Baltimore, MDfixt.co | Enterprise iOT Services | Fixt provides the background maintenance for internet connected devices. Starting with phones & tablets, Fixt helps enterprise clients get their broken devices repaired wherever they happen to be. When we detect an issue, we automate the most convenient repair or replacement option in under 2 hours. |
| Global Healthcare Integrators | Reston, VAghi.global | Healthcare IT/ Digital Health | Global Healthcare Integrators' SaaS Technology Platform enables Specialty Pharmacy Patient Services for Integrated Delivery Networks & creating data transparency around the patient for all key stakeholders in healthcare. |
| Go Together, Inc.(formerly CarpooltoSchool) | Washington, DCcarpooltoschool.com | Software / SaaS | Go Together enables private, public, charter school administrators to leverage technology to offer diverse transportation options to their parent community. |
| IoT Defense | Falls Church, VAiotdef.com | Consumer Internet Security | IoT Defense's build solution to secure the internet of things (IoT). Our first product is a smart firewall for the home consumer designed to secure all their internet connected i.e. smart devices. |
| Machfu | Germantown, MDmachfu.com | Industrial Internet of Things | Machfu simplifies the complex landscape of Industrial Internet of Things (IoT) by easily connecting data at the edge to legacy systems as well as IoT databases in the cloud for business analytics. In short, we make IOT, IT. Our products, the Machfu Platform and the MACHGateway, bring edge to enterprise connectivity to existing industrial infrastructure that can be deployed and scaled quickly. |
| Microcoaching | Washington, DCmicrocoaching.net | Gaming | Microcoaching.net is an on-demand video game coaching marketplace for competitive multiplayer PC games like as Counter-Strike and League of Legends. We help gamers improve by connecting them to experts in real-time through an innovative, proprietary web app. |
| PockitShip | Falls Church, VApockitship.com | Business Services | PockitShip is an on-demand delivery and moving service in the DC metro area and expanding into Baltimore. We specialize in moving heavy items. We typically move items such as furniture, appliances, exercise equipment, grills, and TVs or other large electronics. |
| Qrvey | McLean, VAqrvey.com | Software / SaaS | Qrvey is a Feedback Automation platform enabling non-technical users to create robust feedback collection, analysis & automated workflow solutions quickly. |
| Rooam | Washington, DCrooam.co | FinTech | Rooam is an award-winning mobile payment app for the nightlife and hospitality industry. Its unique technology platform integrates with existing point of sale (POS) systems, allowing customers to open, view, and pay their tab directly from their mobiles devices. As a seamless, secure and hassle-free payment solution, Rooam reinvents the way users pay for their drinks and have a night out, through real-time social media tools to discover events and pinpoint the location of friends in the area. |
| Sales Huddle | New York, NYsaleshuddlegroup.com | SaaS/ Enterprise Software | Sales Huddle's game based training platform converts boring training material into competitive training games that are proven to increase sales performance. Sales Huddle engages employees through daily training games that companies can customize to their brand and be played in under 5 minutes a day. |
| Scriyb LLC | Manassas, VAscriyb.com | Cloud | Scriyb is a revolutionary cloud-based synchronous education engagement platform that allows a single teacher to effectively instruct thousands of students in real-time without sacrificing quality of instruction or the attention required for each student to master the subjects being taught. |
| Source | Washington, DCsource.io | Digital Media | Source is a personal and professional productivity tool that makes it easy to share, organize, and discuss online articles in one place. Source provides a simple tool to save news, organize by topic, and collaborate with others. |
| Tollsmart, LLC | Great Falls, VAtollsmart.com | Internet Software & Services | Tollsmart offers drivers full visibility into tolls along a route, including their costs, location and methods of payment and transponders accepted. It also provides alternate routes enabling drivers to quickly view the tradeoffs between time, distance and cost. |
| UpChannel | Gaithersburg, MD & Newark, NJupchannel.com | Software / SaaS | UpChannel is a B2B SaaS business, that helps smartphone manufacturers and carriers create and manage relationships with their customers, the smartphone owner. Enabling manufacturers to generate recurring revenue, and create cost savings, across the entire life cycle of each phone that they manufacture and sell. |
| VEDA Data Solutions | Washington, DCvedadata.com | Healthcare AI | VEDA Data Solutions creates fully automated machine learning solutions that integrate with our customers existing systems– no data scientist required. VEDA's products are cloud based and accessed through APIs. We allow businesses access to innovative data science they need in their current dashboards. |
Piloted in Baltimore in 2010, TechBUZZ has become a year-long program providing a continuous platform for early stage companies by showcasing 16-20 companies at three events per year. Today TechBUZZ is one of MAVA's annual flagship programs and routinely attracts between 300-400 attendees to each pitch event hosted at a variety of venues. TechBUZZ shines a well-deserved light on the visionary innovators and company-builders who are actively pursuing a path toward market entry, and can exhibit customer validation.
About MAVA: The Mid-Atlantic Venture Association (MAVA) brings together company-builders from across the country and at every stage of development, providing a trusted public showcase to promote these enterprises, from promising startups to publicly-traded success stories. TechBUZZ in particular offers a public platform for community partners and their companies and helps shape a supportive ecosystem for the earliest of start-ups.
For 30 years, MAVA has served the full community of innovators, companies, corporate partners, private capital, and key advisors needed to build successful businesses from start-up to exit. From venture to private equity, angel to growth equity, and family office to strategic corporates, MAVA brings together the full spectrum of capital and key resources necessary to accelerate the growth of companies across industry sectors and stages of development. MAVA provides a wide range of programs designed to stimulate revenue and company growth, create efficiencies for conducting business, facilitate quality deal flow, encourage collaboration and foster relationships among entrepreneurs, corporate decision makers, investors, strategic partners and customers.
To join us as a partner, or to learn more about MAVA, MAVA's members and the services and programs the association provides, visit www.mava.org