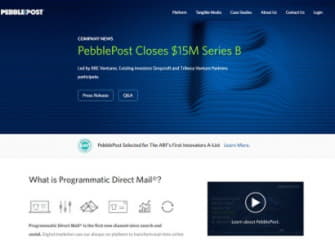 PebblePost®, the inventor of Programmatic Direct Mail®, today announced it has secured a $15 Million Series B round, led by RRE Ventures, with existing investors Greycroft and Tribeca Venture Partners, and additional seed funds and strategic angels also contributing to the round. The investment will be used to support strong demand for PebblePost's Programmatic Direct Mail® solutions and the company's infrastructure growth and market expansion. In addition, Jim Robinson, Managing Partner at RRE Ventures will be joining PebblePost's Board of Directors.
At founding, PebblePost created Programmatic Direct Mail® as the first new marketing channel since search and social. In the past two years, hundreds of brands on the platform have proven the value and effectiveness of the channel. PebblePost's always-on platform solves the many challenges that digital marketers face, specifically, viewability, fraud, disruption of the user experience and ad blocking.
"PebblePost's sales, client satisfaction, innovation, strength of management and expansion lead the market and we are excited to further accelerate even more rapid growth and success," said Jim Robinson, Managing Partner at RRE Ventures. "I have tremendous respect for Lewis, the other board members, and what the team at PebblePost is doing. I'm looking forward to working with them."
"We are thrilled by the reception to Programmatic Direct Mail®," said PebblePost CEO, Lewis Gersh. "Our solution combines the best of both worlds -- digital's real-time interest and intent data and direct mail's physical media into home. The raise will accelerate our infrastructure buildout to better serve our customers, and enhance our product offerings as we help digital marketers turn their data assets into real results. We are also delighted to welcome Jim to our board of directors and are proud to be included in RRE Venture's impressive portfolio of category-defining companies. RRE Ventures has championed innovative companies in their growth toward market disruption and dominance for more than 20 years."
PebblePost's clients are equally optimistic, touting unprecedented returns on advertising spend. The company has seen on average 7-10% of all mail sent results in a purchase across campaigns to existing customers, email subscribers and website prospects.
PebblePost plans to use the round to expand the reach and presence of its new marketing channel beyond retail, into other consumer sectors and B2B where marketers struggle to address and convert audiences. The company will also continue to innovate its 1:1 personalized Programmatic Catalog™ product announced last Fall and employed by brands like Boxed, Saatchi Art, ModCloth and more, in addition to launching more channel partnerships with email service providers, e-commerce engines, and CRM platforms. These moves will deepen the value it provides clients and investors.
PebblePost's funding follows a year of record growth and widespread adoption across enterprise, mid-market and SMBs in the retail and ecommerce categories. The company has also expanded its footprint in the US by adding a San Francisco office and growing its team, including the recent hire of Marita Scarfi (formerly of 72andSunny) as CFO and Head of West Coast Operations.
Fenwick & West LLP provided legal counsel on the round.
PebblePost will be onsite during eTail West, where they'll be hosting a wine tasting on Wednesday, March 1, at the J.W. Marriott.
For more information about PebblePost, please visit, PebblePost.com.
About PebblePost®
PebblePost invented Programmatic Direct Mail® to transform real-time online activity into personalized, dynamically rendered direct mail that's delivered into postal hubs within 12-24 hours, every day. The company's patent pending digital-to-direct mail platform integrates segmentation, campaign management, production, analytics and optimization. PebblePost combines the power of intent data with the effectiveness of in-home to achieve far higher response, conversion rates and ROAS. PebblePost® is a venture-backed company based in NYC.
About RRE Ventures:
RRE Ventures is a New York-based venture capital firm that makes early stage investments, including seed. In its 23 year history, RRE has backed companies such as 8i, Bark & Co, Business Insider, Buzzfeed, Clearpath Robotics, Concur, Giphy, Makerbot, Managed by Q, Proofpoint, Spaceflight, theSkimm, Venmo, Vine and Wisdom Tree.
RRE has raised seven funds with total capital commitments of $1.5 billion. RRE Ventures invests nationally across all sectors, with a current focus on Enterprise Software, Financial Services, Media, Robotics, VR/AR, Space & Satellites, AI/ML, Real Estate Technology, and Healthcare IT.
About Greycroft:
Greycroft Partners is a leading venture capital firm focused on investments in the Internet and mobile markets. With offices in the two media capitals of the world -- New York and Los Angeles -- Greycroft is uniquely positioned to serve entrepreneurs who have chosen us as their partners. Greycroft leverages an extensive network of media and technology industry connections to help entrepreneurs gain visibility, build strategic relationships, bring their products to market, and build successful businesses. Greycroft manages in excess of $1 billion and has made over 150 investments since inception in leading companies including Acorns, App Annie, Boxed, Buddy Media, Extreme Reach, Huffington Post, JW Player, Maker Studios, Plated, Scopely, TheRealReal, Thrive Market, Trunk Club, Venmo, and WideOrbit. For more information please visit http://www.greycroft.com.
About Tribeca Venture Partners:
Tribeca Venture Partners (TVP) is an early stage venture capital fund with more than 90% of its' investments based in the firm's hometown of New York City. TVP's investments include NY-based ACV Auctions, AiCure, AlphaSense, Appnexus, BetterCloud, CommonBond, Crowdtap, PebblePost, ShopKeep and Truveris. TVP partners with world class entrepreneurs leveraging emerging technologies and business models to create and disrupt huge markets. TVP serves entrepreneurs who transform industries and build great companies. TVP invests across a wide variety of industry and technology sectors including adtech, fintech, healthcare IT, consumer tech, AI & machine learning, digital media, Software as a Service (SaaS) and mobile tech. For more information please visit www.tribecavp.com.