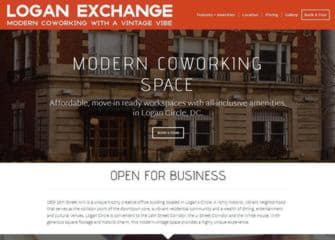 Seven-story office space offers tenants modern amenities with vintage vibe
New co-working space, Logan Exchange at 1509 16th Street has opened as of February 1, 2017.
Located in a historic seven-story building that was constructed in 1910, this conveniently located office space in Logan Circle is 32,000 square feet with available workspace options from lounge access to small office to full floors. Along with workplace necessities, including a secure high-speed network and internet bandwidth, conference facilities, and a community kitchen, Logan Exchange also offers its tenants bike storage, video conferencing capabilities, and a locker room with showers.
Offering a modern twist on the traditional co-working space is the intent of Logan Exchange as demand for these offices and flexible leases continues to grow in D.C. Logan Exchange offers an unmet need for office space within this still-burgeoning neighborhood of Logan Circle.
The vintage feel of this historic location has been preserved within Logan Exchange. The exposed brick, unique window line, and numerous fireplaces serve as a perfect complement to the full height glass walls, Smart TV flat screens, and business-class printers provided throughout the building.
Logan Exchange is located in one of D.C.'s most sought-after areas between DuPont and Logan Circles. Just steps from some of the District's most popular restaurants, as well as cultural and recreational activities, this bustling neighborhood also offers easy access to all five Metro lines and many bus routes.
To learn more, visit http://www.loganexchange.com/