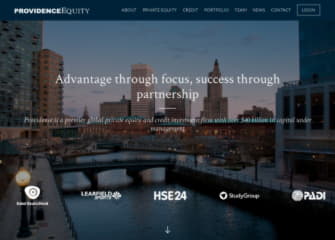 CHICAGO–(BUSINESS WIRE)–EZLinks Golf (EZLinks), a PGA TOUR affiliated company and a leading producer of golf management technology, today announced a significant minority investment by an affiliate of Providence Equity Partners (Providence Equity). Providence Equity is a leading global private equity firm with more than $50 billion in assets under management and a focus on media, communications, education and information companies. Terms of the transaction were not disclosed.
EZLinks is a prominent producer of software and services serving the golf course segment with more than 3,500 clients worldwide. A PGA TOUR affiliated company, EZLinks will expand its product portfolio through the acquisition of Austin, Texas-based Distinct Software Solutions (DSS), a leading marketing technology company specializing in golf.
"The investment by Providence Equity will accelerate our growth through the expansion of our technology portfolio designed for the exacting needs of the golf industry," said Gary Cohen, chief executive officer, EZLinks Golf. "Through innovation, acquisition and service, EZLinks continues to build on our commitment and vision to be golf's most valued partner."
The investment will also increase marketing of TeeOff.com by PGA TOUR, EZLinks' tee time reservation site and the TeeOff.com mobile app launched in November 2016. The official tee time reservation site and app of the PGA TOUR, TeeOff.com provides millions of tee times to golfers that prefer to book rounds online. Online tee time reservations is the fastest growing reservation channel in golf.
Previous and current sports and sports media-related investments by Providence Equity and its affiliates include TopGolf, Ironman Triathlon, Major League Soccer (MLS) Media, Learfield Sports, Yankees Entertainment & Sports Network (YES), Blue Star Sports and the Professional Association of Diving Instructors (PADI).
"EZLinks has a track record of providing golf courses with solid technology to drive operations, which is why 20 out of the top 20 management companies use EZLinks' services," said Scott Marimow, managing director, Providence Equity. "As a PGA TOUR affiliated company, EZLinks is well positioned to be a leading innovator in the industry. Providence Equity is proud to work with EZLinks' proven management team to accelerate its success."
Skadden, Arps, Slate, Meagher & Flom LLP acted as legal advisor to the PGA TOUR and its affiliates on the transaction. DLA Piper LLP advised EZLinks Golf LLC. Weil, Gotshal & Manages LLP advised Providence Equity. Reed & Scardino LLP advised DSS and its stockholders.
The acquisition of DSS by EZLinks follows the March 2016 acquisition of Integrated Business Solutions, the developer of golf's leading point of sale solution.
About EZLinks Golf LLC
EZLinks Golf LLC, a PGA TOUR affiliated company, produces industry-leading software and services to power the operations and marketing needs of the golf industry. Founded in 2015 by a PGA TOUR affiliate and EZLinks Golf, Inc. (established 1995), EZLinks Golf LLC's software and service suite is tailored for golf and includes: tee sheet, point of sale, 24/7 reservation center, online booking engines, marketing services, 24/7 support and TeeOff.com by PGA TOUR (www.teeoff.com) – an online tee time marketplace connecting millions of golfers with tee times at golf courses worldwide. For more information, visit www.ezlinksgolf.com.
About Providence Equity
Providence Equity is a premier, global asset management firm with more than $50 billion in assets under management across complementary private equity and credit businesses. Providence Equity pioneered a sector-focused approach to private equity investing with the vision that a dedicated team of industry experts could build exceptional companies of enduring value. Since the firm's inception in 1989, Providence Equity has invested in more than 150 companies and is the leading equity investment firm focused on the media, communications, education and information industries. Providence Equity is headquartered in Providence, RI and has offices in New York, London, Hong Kong, Singapore and New Delhi. www.provequity.com