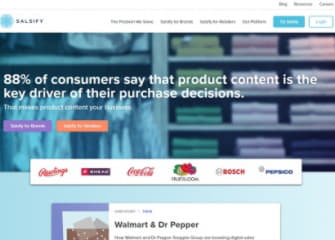 Following a year of growth and innovation, Salsify, the product content management (PCM) platform for distributed commerce, today announced $30 million in Series C funding. Led by Underscore.VC, with continued participation from existing investors Venrock, Matrix Partners and North Bridge,this round brings the company's total funding to date to $54.6 million. The new funds will enable Salsify to continue to advance product development and scale its go-to-market strategy, including hiring 80 new positions in 2017.
Since its start in a Boston basement in late 2012, Salsify has been on a growth trajectory. Revenue in 2016 grew more than 330 percent compared to the year prior, and Salsify's team is now expanded to more than 120 employees housed in its new space in downtown Boston.
"Just about everyone has accepted that retail and digital are now synonymous - you can't sell in-store without a digital presence. The foundation of this new reality is product content. We're proud that Salsify has enabled so many global brands to accelerate their transformation to digital-first organizations," says Salsify CEO Jason Purcell. "This round of funding validates that we're delivering on our mission to solve this complex problem, and that our ambitious vision for further innovation is sound. We look forward to growing our team and bringing on the additional technology and go-to-market talent needed to tackle this challenging issue."
Salsify's product content management platform provides a solution to a major challenge facing today's retailers and brands: efficiently delivering complete, accurate, and compelling product content to digital shoppers, wherever and whenever they shop. Customers, including a wide range of Fortune 500 companies, are seeing faster time to market, improved content on the digital shelf, and increased sales tied directly to their investment in product content management. In addition to growth with brand manufacturers, Salsify continues to expand its partnerships with top retailers, including Walmart, Google, Wayfair, Jet, Overstock and others.
"We have had the privilege of working with the Salsify founding team since they started in 2012, so we have seen firsthand both the massive need in the eCommerce world for product content management and have been impressed by the success Salsify has had in building a roster of blue chip clients, thanks to their team's exceptional execution," said Michael Skok, co-founder and partner at Underscore.VC. "We led this financing round because we are confident Salsify has a world-class technical platform that will scale and most importantly they have created a culture that will be the foundation for growing an incredible company here in Boston."
About Salsify
Based in Boston, Salsify's SaaS-based Product Content Management platform powers the creation, management, and syndication of product content across the distributed commerce ecosystem. Salsify transforms product content management from an administrative burden into a driver of new revenue, increased productivity, and market share growth. For more information, please visit:http://www.salsify.com.