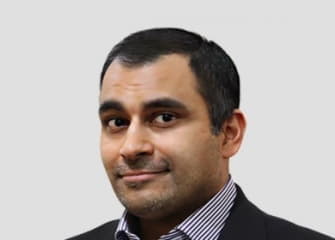 Rodger Desai
Payfone, the pioneer in mobile identity authentication for digital channels, today announced a $23.5-million Series E round of financing. BlueCross BlueShield Venture Partners and Andrew Prozes led the round with new investors Strauss Zelnick, Maclab Development Group and Transaction Network Services, and with participation from current investors RRE Ventures, Opus Capital, Relay Ventures, Early Warning Services, American Express Ventures, Verizon Ventures and Rogers Venture Partners.
Mike Spadafore of Sandbox Industries, on behalf of Blue Cross Blue Shield Venture Partners, and Andrew Prozes, the former global CEO of LexisNexis, whose risk solutions are the premier identity authentication and verification services in the market today, join Payfone's Board of Directors.
The financing reinforces Payfone's leadership in the high-growth authentication market. Enterprises harnessing the power of digital channels to transform and grow their businesses are burdened with the increasing cost and complexity of authentication to fight identity theft and social engineering attacks from professional attackers.
"Years ago, we made a contrarian bet that the way in which mobile phones instantly authenticated themselves would solve fundamental issues with validating digital transactions. The web and mobile channels continue to suffer through the historical struggle with the trade-off between security and convenience. And now the days of protecting sensitive data and securing high-value transactions with text messages, one-time passcodes, and knowledge-based questions, are numbered," said Rodger Desai, CEO of Payfone.
Payfone's patented mobile authentication technology is the first and leading solution to provide protection against these attacks, curbing fraud losses and authentication related expenses while driving engagement and customer lifetime value.
"Our mission at Payfone is to add instant trust to digital so businesses can focus on adding value to customers with engagement and servicing. Payfone is establishing the standard for how enterprises secure and authenticate digital transactions," continued Desai.
The National Institute of Standards and Technology (NIST) recently warned of the vulnerabilities of two factor SMS as an authenticator. Additionally, the Chief Technologist at the Federal Trade Commission (FTC), Lorrie Cranor, was hacked with simple techniques that showcased the issues with current authentication standards.
"Payfone's product set affords healthcare organizations the ability to shift valuable time and money spent verifying identity to driving engagement and better healthcare outcomes. Regulated industries such as banking, healthcare and insurance have a lot in common in this regard. Customers in each industry are shifting their activities to digital channels: from sales to customer services, to payments," said Mike Spadafore, representing Blue Cross Blue Shield Venture Partners. "Through this investment, we are reinforcing our commitment to ensuring that healthcare consumers benefit from cutting-edge security solutions and protections."
Andrew Prozes added, "the use of mobile for financial and healthcare and other applications is growing very rapidly; Payfone has figured out how to determine whether the phone you are using is actually your phone, using unique data, sophisticated patented algorithms and technology to not only identify and authenticate the caller, but to dramatically increase the rescue of transactions which previously would have been declined".
About BlueCross BlueShield Venture Partners
BlueCross BlueShield Venture Partners, L.P. is a corporate venture fund licensed by the Blue Cross and Blue Shield Association, an association of independent Blue Cross and Blue Shield companies. The fund invests in promising emerging companies of strategic relevance to Blue Cross and Blue Shield Plans. Sandbox Industries is the exclusive provider of investment management services to BlueCross BlueShield Venture Partners. For more information, visit www.bcbsvp.com.
About Payfone
In today's world, it takes just a few bad actors to force businesses to treat all customers with suspicion. This leads to customer and employee frustration, increased operating costs and reduced revenue. Payfone delivers a seamless non-intrusive verification using your mobile phone's inherent identity to provide persistent protection for businesses and their customers. This Instant Trust enables the best possible experience and lowers the risk of loss due to friction and fraud. The company is backed by leading venture firms, financial institutions, and Mobile Network Operators and is based in New York. For more information, visit www.payfone.com.