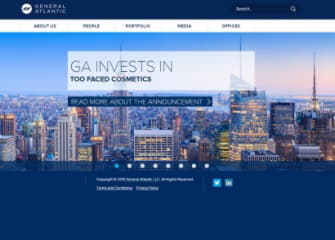 General Atlantic, a leading global growth equity firm, together with the online marketplace investors Pierre Siri and Henrik Persson, announced the acquisition of a majority stake in Hemnet, Sweden's leading online real estate classifieds platform. Following the investment, General Atlantic will become a majority shareholder. The consortium, consisting of Henrik, Pierre and investors in their investment company Merro, will take a minority stake in the company, joining existing investors Fastighetsmäklarförbundet ("FMF") and Mäklarsamfundet ("MS"), the real estate broker associations in Sweden.
Founded in 1998 as an initiative from the Swedish real estate broker associations, Hemnet is Sweden's leading online marketplace for home buyers and sellers. With more than 2.5 million unique monthly visitors, Hemnet ranks among the top websites in the country, making it a key destination for real estate listings and transactions.
"General Atlantic has a track record of investing in online classifieds platforms around the world and Hemnet is one of the highest quality companies we have seen in the category. The service is embedded in the Swedish real estate market, allowing home owners and real estate brokers to efficiently advertise their properties to a broad audience," said Chris Caulkin, Principal at General Atlantic. "We are excited to work with the management team and our partners Pierre and Henrik to further develop Hemnet as a leading real estate portal."
"I have followed Hemnet since it was founded and it feels great to finally have an opportunity to be a part of the company's success story and to help develop Hemnet into an even better resource for both consumers and real estate brokers," said Pierre Siri. "Hemnet's trust with its consumers is among the strongest we have seen in any property portal and the partnership between Hemnet, the brokers and the broker associations has led to the development of a unique platform that ensures a well-functioning marketplace for all participants."
"Our ambition has been to achieve a business deal which promotes the interest of our members. We have great confidence in the new owners and look forward to continuing to develop Hemnet in a way, which is attractive to and creates value for both consumers and Sweden's real estate agents," says Anders Edmark, Chairman at Mäklarsamfundet.
"In November, our members voted to sell some of their shares in Hemnet. Many of our members expressed happiness about the new owners. We believe that we made a good decision, not only for the future of Hemnet but also for the consumers who visit Hemnet and for Swedish real estate agents. Together with the new owners, we look forward to continuing to develop Hemnet to remain Sweden´s number one website for real estate," says Erik Olsson, chairman of Fastighetsmäklarförbundet FMF.
As part of the investment, Henrik Persson, Pierre Siri, and Chris Caulkin of General Atlantic will join the Board of Directors.
About Hemnet
Founded in 1998, Hemnet is Sweden's largest online property portal with two million unique visitors each week to its mobile and desktop platforms. During 2015, 220,000 real estate listings were published on Hemnet. For more information, please visit www.hemnet.se.
About General Atlantic
General Atlantic is a leading global growth equity firm providing capital and strategic support for growth companies. Established in 1980, General Atlantic combines a collaborative global approach, sector-specific expertise, long-term investment horizon, and a deep understanding of growth drivers to partner with great management and build exceptional businesses worldwide. The firm has a differentiated track record of partnering with leading online marketplace companies such as Airbnb, Axel Springer, decolar.com, Fang.com, and KäuferPortal. General Atlantic has more than 100 investment professionals based in New York, Greenwich, Palo Alto, Sao Paulo, Mexico City, London, Munich, Amsterdam, Beijing, Hong Kong, Mumbai, and Singapore. www.generalatlantic.com
About Pierre Siri
Pierre Siri is a Swedish serial entrepreneur who brings to Hemnet an extensive background within online classifieds which includes the role as CEO and first investor in Blocket.se, the Swedish online classifieds asset that is today owned by Schibsted and in many ways considered the benchmark asset for online classifieds players globally.
About Henrik Persson
Henrik worked for Kinnevik between 2003-2014. From 2006 he was Head of Investments and the driving force behind Kinnevik's transformation to a company with significant investments in consumer-focused internet businesses comprising more than 40 different companies and more than 20 billion kronas in invested capital. Many investments have yielded great results, including Avito and Zalando. Henrik has also been involved in several publicly listed companies such as Qliro Group and Zooplus. Before his time at Kinnevik, Henrik was an equity research analyst at HSBC and prior to that a financial journalist on Reuters and Finanstidningen, respectively.