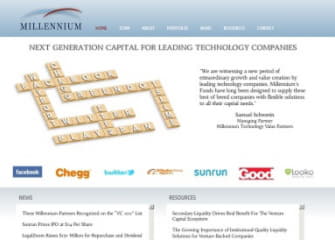 Blackmore Sensors and Analytics, Inc., a leading developer of frequency-modulated continuous-wave (FMCW) lidar, announced today that it has raised $3.5 million in a Series A funding round led by Next Frontier Capital and Millennium Technology Value Partners.

Blackmore will use the funds to miniaturize its FMCW lidar engine and deliver affordable, high-performance lidar sensors to the automotive and surveillance markets. Industry analysts expect the annual lidar market to reach $10 billion by 2020, fueled, in large part, by the rapidly growing demand for advanced driver assistance systems (ADAS).

"The Blackmore team has decades-long expertise in developing high sensitivity lidar technologies for the defense industry," said Sam Schwerin, managing partner at Millennium. "This gives Blackmore an important advantage in evolving these technologies to the highest and most robust specifications. Unlike other startups in this field, Blackmore's lidars are operable right now and are producing data that meet the exacting standards required by the autonomous vehicle industry."

Blackmore's HRS-3D surveillance lidar pairs long-range sensing capabilities with advanced algorithms to provide real-time mapping and situational awareness to its surveillance customers. The heart of this sensor, a state-of-the-art FMCW lidar engine, functions more like a modern radar system than the conventional pulsed laser 3D imaging technologies currently on the market.

"Blackmore's lidar engine provides advanced capabilities not available in competing systems," said Next Frontier Capital managing partner, Richard Harjes, "such as single photon sensitivity and the capability to simultaneously measure an object's range and speed. These advanced capabilities will open up a new era of computationally efficient lidar analytics that will lower the total cost of autonomous driving systems."

"The biggest challenge for today's lidar systems is that the primary components require labor intensive manufacturing processes. This keeps production costs high, preventing mass market adoption," said Dr. Randy Reibel, Blackmore's CEO. "This funding will enable Blackmore to begin manufacturing its lidar engine using semiconductor processes, enabling large quantities of sensors at the very low cost necessary to drive mass market applications. Blackmore's current plan is to deliver prototype automotive lidar and deployable surveillance systems using our new lidar engine in mid-2017."

About Blackmore Sensors and Analytics, Inc.

Blackmore is a leader in developing compact and robust frequency-modulated continuous wave (FMCW) lidar imaging and its supporting analytic tools software. Blackmore's core technology brings the advanced toolsets of modern radar into the optical domain enabling a new era of unprecedented lidar systems performance. Blackmore's technology is ideal for a variety of intense, mission critical, automotive, military and industrial environments, where common traditional EO/IR sensors and direct detect 3D imagers are limited by cost and performance specifications. Blackmore is located in Bozeman, Montana. For more information visit: www.blackmoreinc.com.

About Next Frontier Capital

Next Frontier Capital (NFC) partners with mission-driven, talented entrepreneurs to build Montana technology companies of national impact, utility and value. Founded in 2015, NFC's inaugural $21M venture fund is backed by a well-diversified pool of investors from the world's top technology and financial firms, who are committed to realizing the region's extraordinary growth in technology deal flow.

The fund has made seven investments to date: SiteOne Therapeutics, Submittable, Clearas, Centricient, Orbital Shift, Phoenix Labs, and Blackmore Sensors and Analytics. NFC is based in Bozeman, MT. More information is available at www.nextfrontiercapital.com.

About Millennium Technology Value Partners

Millennium is a New York-based investment firm with in excess of $500 million dollars under management. Over the past fifteen years Millennium has invested in more than 75 technology companies, including such well-known leaders as Facebook (FB), Twitter (TWTR), Zappos (AMZN), Chegg (CHGG), Lookout, Tellme (MSFT), RigNet (RNET), Alibaba (BABA), Spotify, PrecisionHawk, HauteLook (JWN), Tumblr (YHOO), Chef, ETF Securities, LegalZoom, Wayport (T), NetSpend (TSS), Pentaho (HDS), HootSuite, ID Analytics (LOCK), Sunrun (RUN), LifeLock (SYMC), ArcSight (HPQ), PlaySpan (V), Epocrates (ATHN), and many others. The firm's portfolio companies have achieved 46 IPO and M&A events to date.

Millennium is an active investor in companies that are at the leading edge of emerging technologies, such as Autonomous Vehicles, Drones, Mapping, Artificial Intelligence, and Big Data and Data Analytics.
Millennium actively serves as "Lifecycle Capital Partner" to great companies, providing a flexible mix of primary growth capital, secondary liquidity, venture debt, acquisition financing and other creative capital solutions that help to drive growth throughout a company's entire lifecycle. For more information, visit: www.MTVLP.com.