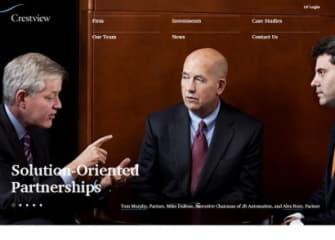 EVANSVILLE, Ind.–(BUSINESS WIRE)–Accuride Corporation (NYSE:ACW) – a leading supplier of components to the North American and European commercial vehicle industries – announced the completion of its acquisition by funds managed by Crestview Partners, a leading New York based private equity firm, pursuant to the merger agreement it announced on September 2, 2016. Accuride's shareholders adopted the merger agreement at the Company's Special Meeting of Shareholders held on November 15, 2016.
Accuride President and CEO Rick Dauch said, "Today marks the start of a new and exciting chapter for our storied company. As a stand-alone business within Crestview's portfolio of companies, Accuride will serve as a platform for further growth and consolidation in the global wheels and wheel-end sectors as we continue to deliver world-class operating performance and products for our customers. Our Executive Leadership Team is energized to lead Accuride into this new phase of expansion for our business and look forward to working closely with the Crestview team."
Alex Rose, Partner at Crestview and co-head of the firm's industrials strategy, commented: "We are impressed by Accuride's commitment to excellent service and the strong reputation they have built over the course of their history. We believe this acquisition will allow Accuride to focus on long-term initiatives and, in doing so, will grant the Company flexibility to improve on its current business model. We look forward to working with the existing management team to support Accuride as it enters this next phase of growth."
Under the terms of the merger agreement shareholders are entitled to receive $2.58 in cash per share of the Company's common stock. As a result of the transaction, the Company's common stock will cease to trade on the New York Stock Exchange prior to the opening of the market on November 21, 2016 and will be delisted. The Company will terminate its registration and reporting obligations with the Securities and Exchange Commission.
Rick Dauch will continue to serve as Accuride's President and CEO, supported by the other members of the Company's Executive Leadership Team. Accuride will continue to operate under its current brand name and remain headquartered in Evansville, Ind., USA, with operations in the United States, Canada, Mexico and Italy.
About Accuride Corporation
With headquarters in Evansville, Ind., USA, Accuride Corporation is a leading supplier of components to the North American and European commercial vehicle industries. The company's products include commercial vehicle wheels and wheel-end components and assemblies. The company's products are marketed under its brand names, which include Accuride®, Accuride Wheel End Solutions™, Gunite® and Gianetti Ruote™. Accuride is a portfolio company of Crestview Partners. For more information: www.AccurideCorp.com.
About Crestview Partners
Founded in 2004, Crestview Partners is a value-oriented private equity firm focused on the middle market. The firm is based in New York and manages funds with over $7 billion of aggregate capital commitments. The firm is led by a group of partners who have complementary experience and distinguished backgrounds in private equity, finance, operations and management. Crestview's senior investment professionals primarily focus on sourcing and managing investments in each of the specialty areas of the firm: media, energy, financial services, and industrials. For more information: www.crestview.com.