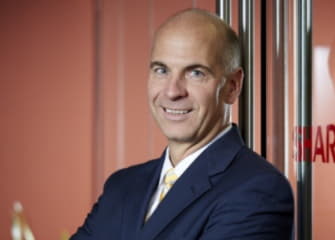 Mike Marusic
Sharp Electronics Corporation (SEC) announces two promotions to the executive management team. Mike Marusic has been promoted to Chief Operating Officer (COO) of the SEC organization as well as Executive VP of Marketing for the B2B sector. Moonsun Park has been promoted to Vice President, SEC Controller.
Mike Marusic
In his new position, Marusic will report directly to the President, Chief Executive Officer and Chairman of SEC, Doug Albregts, and will be responsible for directing all functions related to operations, corporate marketing, services, information technology, human resources, facilities and purchasing, while also continuing to oversee the marketing strategies for B2B operations.
"Mike has done an outstanding job over the past 14 years in a variety of executive roles driving the marketing, business solutions, operations and technical services groups within Sharp Imaging and Information Company of America (SIICA)," said Albregts. "His vast wealth of knowledge and expertise will be invaluable in his expanded role as COO, helping us enhance efficiencies across the organization and achieve our objectives for growth and profitability."
Marusic is a graduate of Siena College and earned his MBA from Fordham University. Prior to joining Sharp in 2002, he headed the marketing group for Panasonic's copier and computer peripheral division and has over 25 years of experience in the office technology sector.
"I'm very excited to take on this new position within the SEC organization," said Marusic. As Sharp continues to be recognized globally for its products and innovations, I look forward to working with all of our business groups to enhance the brand in the market while creating and executing strategies across the organization that achieve a more unified and efficient operation."
Moonsun Park
In her new position, Park will continue to report to Bill Flynn, Senior VP of Finance and CFO, and will be responsible for general accounting, consolidations and reporting, FP&A, and AP, including helping to manage the company's financial audit and the relationship with its external auditors.
"Moonsun is a respected leader and an invaluable resource within the finance group at Sharp," said Flynn. "She has distinguished herself in a variety of management positions, consistently striving to improve business processes to positively impact the organization."
"I am very excited for this opportunity to work with the local leadership at SEC and look forward to contributing toward Sharp's future success," said Park.
Park received her Masters of Business Administration in Accounting from Fairleigh Dickinson University and a Bachelors of Arts in International Relations and Asian Studies from Tufts University.
About Sharp Electronics Corporation
Sharp Electronics Corporation is the U.S. subsidiary of Japan's Sharp Corporation. Sharp is a worldwide developer of one-of-a-kind home appliances, networked multifunctional office solutions, professional displays, robotics and energy systems.
About Sharp Imaging and Information Company of America
Sharp Imaging and Information Company of America, a division of Sharp Electronics Corporation, markets the advanced, MX Series multifunction printer (MFP) systems that help companies manage workflow efficiently and increase productivity. As a leader in security within the MFP industry, Sharp MFPs feature the Sharp OSA® development platform, which seamlessly integrates network applications to create a personalized MFP that can meet virtually any business need, and Scan2 technology, which scans two-sided documents in a single pass to enhance scanning reliability and preserve document integrity.