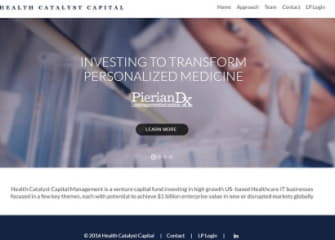 ReferWell™, creator of a new online platform for medical generalist-to-specialist patient referrals, today announced completion of a private equity financing round led by Manhattan-based Health Catalyst Capital Management LLC (HCCM). The growth capital will be used to ramp up sales activity and to expand the feature set of the ReferWell platform.
The company and its new investment partners are pleased to report that the Software-as-a-Service (SaaS) platform is already servicing thousands of medical offices in New York City to send and receive referrals. The ReferWell platform enables doctors or administrative staff in primary care physicians' offices to immediately schedule patients with specialist-care providers that participate in the patient's insurance, perform the needed procedure, and are available at a time and place that is convenient for the patient.
The company is rolling out its ReferWell platform to clinics, independent physician practices, urgent care providers, hospitals, and other health service providers on a subscription basis. Based on current clients, ReferWell's management anticipates that the platform will be managing more than five hundred thousand medical referrals per annum by the end of 2016.
"We are extremely pleased with ReferWell's product, people and processes," said Charles Boorady, managing director of HCCM. "ReferWell closes the loop on medical referrals. We have seen the improvement in patient compliance and care coordination that is effected by the ReferWell service in New York and believe that further expansion aligns with our fund's goal of driving innovations that improve clinical outcomes and value through transformation of the health care delivery system."
"The referral process is in dire need of transformation, as many of us who have been patients can attest," said Vytas Kisielius, chief executive officer of ReferWell. "We are grateful for the support and partnership HCCM provides as we pursue our goal of improving patient care by helping providers and payers better manage the referral process."
The ReferWell platform is HIPAA and HITECH compliant. All PHI (Protected Health Information) is encrypted in order to ensure patient privacy and made visible to only the specific providers who are engaged in that patient's care.
About Health Catalyst Capital Management
Health Catalyst Capital Management LLC is a New York City-based venture capital firm that seeks to invest in entrepreneurial teams building high growth healthcare information technology businesses that make a positive social impact by improving patient outcomes and value. For more information, visit http://www.HealthCatalystCapital.com.
About ReferWell
ReferWell offers a secure, cloud-based referral management platform created by doctors for doctors. Our revolutionary platform balances all aspects of the referral workflow to meet the needs of patients, providers, and payers across a variety of networks and EMR systems for major health care organizations, clinics and physician groups. For more information, please visit http://www.referwell.com.