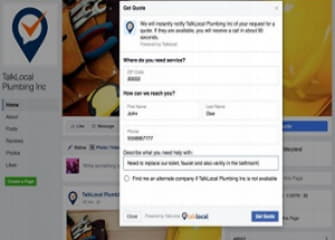 TalkLocal Streamlines Response Times on Pages by Allowing SMBs to Receive and Respond to Quote Requests by Phone
TalkLocal, a home services marketplace and technology provider, has begun enabling a call-to-action button on Facebook Pages. Now, by clicking the "Get Quote" button on a merchant's Page, people can seamlessly request a price estimate for their home services needs and get a response in near real-time.
"More than 1.7 billion people and 60 million small businesses are on Facebook. So, that's what we're excited about: helping so many more people, whether it's helping them get the right information or reach the right customers," TalkLocal's co-founder Manpreet Singh said.
A Conversation with Manpreet Singh, Co-Founder and President of TalkLocal - Interviewed by Edwin Warfield

According to the Locowise Facebook Customer Support Report, 87% of Facebook posts go unanswered. Plus, according to TalkLocal's data, 60% of calls to businesses go to voicemail. Ultimately, low response rates and slow response times force people to contact more companies, leave more messages, and sacrifice more time away from what matters to them.
With TalkLocal, people can expect to speak to a live professional in about 90 seconds, even if a specific business isn't available. They just click the "Get Quote" button on a Page, describe their needs, and stand by to connect by phone. Receiving the service request, companies can opt into a conversation with the customer. If there's no immediate response, TalkLocal can filter through millions of businesses to find and connect the person to another top-rated pro.
"Better online experiences do more than help people accomplish tasks and business goals, it can help restore a sense of community at the local level by improving communication and accessibility between neighbors," Singh explained.
TalkLocal has raised $4 million in venture and Angel funds, served customers in 49 states, and delivered nearly 2.5 million calls to matching businesses to date. It offers millions of tasks in categories including roofing, accountants, and heating and cooling. Download the app for free from iOS, Google Play, or Amazon Echo.