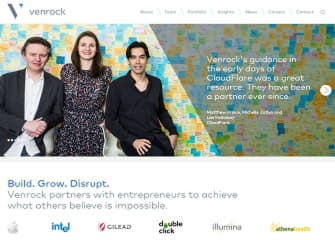 Beckon today announced it has raised an additional $10M to solidify its position as The Source of Truth for Marketing and continue its rapid growth—a 225% revenue increase in three quarters. Beckon's enterprise-class data management and real-time marketing intelligence platform delivers integrated marketing performance insight to many of the world's biggest brands, including Coca-Cola, IBM, Gap and Reebok. The round was led by Venrock, with participation from all other existing Beckon investors—August Capital, Canaan, El Dorado Ventures and The Kaiser Family Foundation.
The incremental funds bring Beckon's total funding to $34M, and will be used to accelerate growth and momentum across all parts of the business. Beckon will continue to recruit and hire top talent in every department, and speed development of its proprietary marketing data management platform to further augment its award-winning marketing performance analytics, planning and reporting suite.
"As CMO, I'm at the helm, tasked with steering our brand right and true, through very choppy waters," said Jascha Kaykas-Wolff, CMO of Mozilla and a Beckon customer. "But without trustworthy coordinates to navigate by, I simply cannot do my job. Beckon does the hard work—the heavy lifting to align our data—and delivers performance insight that we can trust and base decisions on."
"CMOs are being asked to be data-driven, accountable and measurable, and we are at a point in time when the job of the marketer has become unimaginably complex," said Brian Ascher, partner with Venrock. "Brands need an unbiased source of truth and real-time insight into marketing performance across all channels. Beckon is clearly the right product at the right time in the market, because we've seen the company triple its revenues in three quarters. We've been winning nine out of 10 competitive situations these last 12 months, and we're seeing very happy customers with dramatic subscription expansions in short periods of time. We want to give the team more ammo to further expand the team and keep winning."
Beckon's omnichannel marketing intelligence platform, which elucidates performance across the entire customer journey, has won numerous awards. The company was recently selected Best Sales & Marketing Intelligence Solution as part of the 2016 SIIA CODiE Awards. Beckon has also been named one of the 10 Best New Marketing Technologies by Inc., a Cool Vendor by Gartner, one of the Most Influential SaaS Companies in The World by Montclare, and received a Gold Stevie Award for Product of the Year in both 2014 and 2015.
"As omnichannel marketing leaders, we simply cannot accept siloed, messy, biased, conflicting and slow data any longer. We can't build great things atop shifting sands of messy data. Marketing needs a source of truth," said Jennifer Zeszut, CEO of Beckon. "Beckon delivers a rock-solid data foundation and integrated performance insight that brands can trust, thereby elevating the entire marketing function in the eyes of CEOs and CFOs. It's a beautiful thing."
According to Gartner, 69% of marketers plan to base most of their decisions on quantitative criteria within the next few years, and as many plan to have a "marketing analytics center of excellence" in place by 2017. Brands are beefing up their marketing data management and marketing intelligence capabilities, and Beckon's technology platform and experienced marketing analytics team members, who guide customers through the journey, are central to strengthening this critical capability.
Beckon today released a report titled "Marketing Truth or Marketing Hype?" that analyzes $16 billion of customers' marketing spend across 203 brands and 120 countries, and the resulting performance data, to reveal the ROI of current marketing trends. Beckon is discussing the report findings with marketing leaders from Coca-Cola, IBM and Reebok—all Beckon customers—on an Advertising Week panel that takes place tomorrow. Details on the panel can be found here, and the "Marketing Truth or Marketing Hype?" report can be downloaded here.
To join the conversation, follow Beckon on Twitter at @BeckonInc or visit the Beckon blog.
About Beckon
Beckon is The Source of Truth for Marketing™—enterprise software that delivers clean, trusted data and real-time marketing intelligence for agile decisions at the speed and scale of modern marketing. The first platform to combine data best practices with marketing best practices, Beckon provides automated data management, total visibility into cross-channel marketing performance, integrated campaign planning, omnichannel analytics, real-time dashboards and scorecards, and marketing KPIs right out of the box for fast time to value. Beckon is for marketers who want to bring order to messy data, see what's working across it all, spend wisely, maximize ROI, and tell the story of marketing's impact on the business.
About Venrock

Originally established as the venture capital arm of the Rockefeller family in 1969, Venrock partners with entrepreneurs to build some of the world's most disruptive, successful companies. With a primary focus on technology and healthcare, portfolio companies have included Apple Computer, Athenahealth, Centocor, Check Point Software, DoubleClick, Endeca, Gilead Sciences, Idec Pharma, Imperva, Illumina, Intel, Millennium Pharma, Nest, SlideShare and Tudou. For more information, please visit Venrock's website at www.venrock.com and follow the firm on Twitter at @venrock.