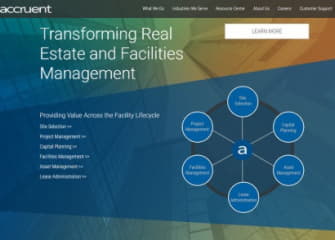 Accruent, the world's largest provider of real estate, facilities and asset management solutions, announced the acquisition of Verisae, Inc., a leading provider of cloud-based solutions that connect facilities and assets to the maintenance and service network through the Internet of Things (IoT).
Managing the real estate and facilities lifecycle is second only to people as the largest expense item in enterprises today, and the cumulative annual spend is over one trillion dollars globally. For over 20 years, the software to serve this market has been a collection of fragmented point solutions. Bringing together the ability to strategically plan, to execute those strategies, and to proactively manage daily operations across the complete lifecycle, with the capability of the IoT and mobile field service management is revolutionary for the industry.
"With the addition of Verisae, Accruent is uniquely equipped to deliver game-changing customer value," said John Borgerding, CEO, Accruent. "We can now help customers manage their complete facilities lifecycle from strategy to execution by connecting real estate and facilities to assets and service teams through the Internet of Things. The next-generation capabilities we are providing to customers drive step-function performance gains and enable them to deliver a transformative customer experience."
Verisae brings applications that can react and respond in real-time, and connect facilities and equipment to the teams that service and support them.
A recent press release from Gartner stated, "IoT creates a unified view of facilities management as well as advanced service operations through the collection of data and insights from a multitude of sensors. 'Especially in large sites, such as industrial zones, office parks, shopping malls, airports or seaports, IoT can help reduce the cost of energy, spatial management and building maintenance by up to 30 percent,' added Ms. Tratz-Ryan." 1
In addition, research shows that mobile field service solutions can deliver an 18 to 40 percent improvement2 across a range of productivity, service level and financial metrics. The value created by connecting and automating the facilities and service teams in real-time is significant.
BJ's Wholesale Club has been a long-time user of both Accruent and Verisae solutions. Peter Thomas, SVP, director of real estate and property development at BJ's commented, "These solutions help us deliver value to our members by operating our clubs as efficiently as possible while ensuring a great shopping experience for our members."
"Our goal has always been to connect our asset management solutions with software that manages the real estate and facilities lifecycle," said Jerry Dolinsky, CEO, Verisae. "By joining forces with Accruent, we will offer unprecedented scope – everything from long-term strategy and planning that spans years or even decades, through the real estate lifecycle including lease administration and construction project management, and through facilities management, field service and the real-time world of equipment monitoring and control."
1 Gartner Press Release, "Gartner Says Smart Cities Will Use 1.6 Billion Connected Things in 2016", December 7, 2015. http://www.gartner.com/newsroom/id/3175418.
2 Field Technologies Magazine, "How The Latest Technologies And Trends Are Transforming The Mobile Workforce," 2013.
About Accruent
Accruent helps real estate, facilities and asset leaders deliver long-term, world-class operational and financial performance through industry-specific suites that deliver greater customer value. Accruent's solutions are at work in more than 5,800 leading organizations worldwide, including 40 of the top 100 retailers, 25 percent of the Fortune 500, 40 percent of leading universities, all 4 of the top U.S. wireless carriers, 55 percent of U.S. hospitals as well as leading service providers managing more than four billion square feet of property. Founded in 1995, Accruent is headquartered in Austin, Texas, with locations across the U.S. and in Canada, China, India and the United Kingdom. For more information, visit www.accruent.com.
About Verisae
Verisae is a leading provider of SaaS solutions that connect the maintenance and service network globally to manage asset and equipment maintenance, energy usage, mobile workforces, environmental sustainability, and compliance for companies in the utilities, telecommunications, retail, manufacturing and service management industries. By integrating business information and processes on a common data platform with analytics to drive insight and fact-based decisions, Verisae enables our customers to reduce operating costs, improve customer satisfaction, and increase profits. For more information, visit www.verisae.com.
About BJ's Wholesale Club

Headquartered in Westborough, MA, BJ's Wholesale Club, Inc., is a leading operator of membership warehouse clubs in the Eastern United States. The company currently operates over 210 Clubs in 15 states from Maine to Florida and employs more than 25,000 Team Members. For more information, visit www.BJs.com.