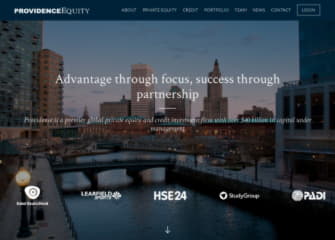 Untangle® Inc., a leader in comprehensive network security for small-to-medium business, announced that it has been acquired by Providence Strategic Growth (PSG), the growth equity affiliate of Providence Equity Partners, a global private equity firm with $47 billion in assets under management. PSG is also contributing growth capital to further Untangle's ability to win market share and continue to unseat incumbents in the unified threat management (UTM) market.
Untangle's flagship product, NG Firewall, delivers a comprehensive solution for small-to-medium businesses and home offices that require enterprise-grade information security with the ease of use of a consumer product. Untangle's industry-leading approach to network traffic visibility and policy management gives its customers deep insight into what's happening on their network through its database-driven reporting engine and 360° Dashboard. Untangle was recently named to the 2016 Inc. 5000 list of fastest growing privately held companies in America for the third year in a row and has earned its first appearance in the Gartner Magic Quadrant for unified threat management .
In connection with the acquisition, Untangle has named Scott Devens to the role of chief executive officer. Mr. Devens brings nearly thirty years of success in executive leadership roles covering sales, services, marketing, engineering and finance at both early stage and enterprise technology companies including Core Security, Talend and EMC.
"I'm thrilled to be joining Untangle at a stage where it is well-positioned to capitalize on the opportunities before it," said Devens. "NG Firewall's ease of adoption continues to win over customers who demand a network security solution specifically engineered for smaller organizations with limited IT resources. Our partnership with PSG will accelerate our investment in new product enhancements, channel, and go-to-market initiatives to address the evolving cybersecurity needs of the mid-market."
"Untangle's innovative, intuitive platform for network security applications is setting the bar for the UTM space," said Gopi Vaddi, Director at PSG who will join the Untangle Board of Directors. Vaddi continues, "NG Firewall provides significant value for small-to-medium businesses who have otherwise been told by enterprise players to make do with solutions designed for branch offices. The rapid expansion of the UTM market is a testament to the need for a simple, powerful, all-in-one solution, and we believe Untangle is uniquely positioned to fill that need."
Chuck Young, Director of Information Technology at Flow Companies, commented, "With Untangle's NG Firewall solution, I am able to leverage my existing hardware investments, thereby reducing my total cost of ownership, while providing an extensible security platform across my 17 automotive retail locations. At each location, we average 50 to 1000 devices on our guest network and have been very pleased with the performance and scalability of the Untangle solution."
Information Technology Director Richard Zamoida at the Boys and Girls Club of Manchester, New Hampshire, stated, "With Untangle, I was able to create separate policies—one for staff and one for children—that provided the appropriate internet access controls for each area of the operation. Migration to Untangle has been simple and has provided enterprise-level access control across my entire network. I can ensure the children are protected, and the network performance is meeting the demands of the Club."
"Untangle is trusted by thousands of organizations worldwide to safeguard the networks and devices that their employees rely on," said Mark Hatton, senior advisor at Providence Equity Partners and former president and chief executive officer at Core Security. Mr. Hatton, who will be joining the Untangle Board of Directors as Executive Chairman, continued, "Untangle's unwavering dedication to exceeding the expectations of its customers has made it the clear choice of IT professionals."
About Untangle
Untangle is an innovator in cybersecurity designed specifically for the below-enterprise market, safeguarding businesses, home offices, nonprofits, schools and governmental organizations. Untangle's integrated suite of software and appliances provides enterprise-grade capabilities and consumer-oriented simplicity to organizations with limited IT resources. Untangle's award-winning network security solutions are trusted by over 40,000 customers around the world. Untangle is headquartered in San Jose, California. For more information, visit www.untangle.com.
About Providence Equity

Providence is a premier, global asset management firm with $47 billion in assets under management across complementary private equity and credit businesses. Providence pioneered a sector focused approach to private equity investing with the vision that a dedicated team of industry experts could build exceptional companies of enduring value. Since the firm's inception in 1989, Providence has invested in more than 150 companies and is the leading equity investment firm focused on the media, communications, education and information industries. Providence is headquartered in Providence, RI and also has offices in New York, London, Hong Kong, Singapore and New Delhi. For more information on Providence Equity, please visit www.provequity.com.