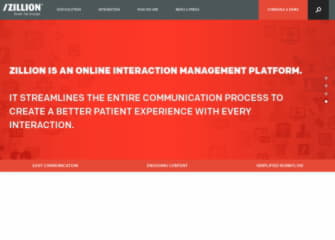 Zillion Group, a leading technology solution for digital engagement, today announced the company has raised $28 million in its Series C round of fundraising. The round was led by TwinFocus Capital Partners, the premier boutique multifamily office for global ultra-high net worth families, entrepreneurs and professional investors. As part of the financing, TwinFocus' Cofounder and Managing Partner Paul Karger, CFA, will also join Zillion's Board of Directors.
This newest round of investment will be used to fund the company's growth and ongoing enhancement of its SaaS-based digital engagement platform. Zillion's platform specializes in patient engagement and video consultation to allow healthcare stakeholders to reach patients with greater frequency to scale resources, drive revenue and improve outcomes. The technology empowers providers to extend care outside of their physical facilities to engage patients in practical activities and with devices that are part of their daily lives. Zillion's platform is tailored for a wide range of participants across the care continuum, including patients, providers, payers and medical device manufacturers, among others.
"Engagement is the most over-used and under-delivered word in healthcare. Despite widespread interest in digital health programs, telephonic outreach is still the norm – resulting in vast inefficiencies across the continuum of care. Zillion's solution is all about providing a better way of communicating live and a more efficient vehicle to increase engagement, create social networks and virtualize content to deliver optimal patient care and achieve desired outcomes," said Jim Boyle, Chairman and CEO of Zillion. "This investment underscores TwinFocus's confidence in our company, our mission and our technology platform. We look forward to expanding into additional healthcare applications and driving innovation in online patient engagement to reduce costs in the healthcare system and improve outcomes."
Zillion's digital engagement platform encompasses a leading set of tools, algorithms and best practices that customers can leverage to optimize engagement rates across user populations. The technology features face-to-face live video conferencing – including one-to-one, group and webcast – coupled with dynamic content delivery. Additional capabilities include interactive messaging, curriculum scheduling, alerts and reminders, digital workforce management, data analytics, monitoring, and goal tracking. The flexibility of Zillion's open, API-first architecture allows innovators to configure customized digital care programs quickly and cost-effectively.
Zillion recently announced two major partnerships with leading health insurer UnitedHealth Group's Real Appealand endoscopic surgical product provider Apollo Endosurgery, Inc., both of which are leveraging the platform to provide patients with real human interaction in the form of educational sessions, group discussions and live coaching.
"Zillion is one of the only companies that has thought about what it takes to drive true patient engagement at scale and successfully get healthcare outside of the four walls of the hospital setting," said Paul Karger, Co-Founder and Managing Partner of TwinFocus Capital Partners. "Telehealth is a huge and rapidly maturing movement in healthcare that is improving the efficiency and quality of care delivered. However, the solutions to date have basically been silos of content with a patchwork of existing technology cobbled together. Zillion, on the other hand, has built a platform from the ground up that was designed from the consumer's perspective. The result is the only platform that enables personalized digital healthcare, empowering both patient and practitioner."
About Zillion Zillion's highly configurable, cloud platform offers a broad suite of applications and functionality used to deliver a range of consumer engagement capabilities. The company is headquartered in Norwalk, Connecticut, with offices in Boston. For more information, visit www.zillion.com or follow us on Twitter at @Zillion.
About TwinFocus Capital TwinFocus is the premier boutique multifamily office for global ultra-high net worth families, entrepreneurs and professional investors looking to preserve, enhance and transfer wealth across multiple generations. The firm's proprietary total balance sheet approach and direct investing platform incorporate the nuances and complexities of all family members, and integrates all aspects of Tax, Legal, Investment, Philanthropic, and Intergenerational Planning in its relentless pursuit of establishing enduring legacies. Headquartered in Bostonwith an office in Miami, TwinFocus advises clients on $4 billion of assets and manages diversified investment solutions that include exclusive access to unique direct investments in private equity and real estate. For more information visit www.TwinFocusCapital.com.