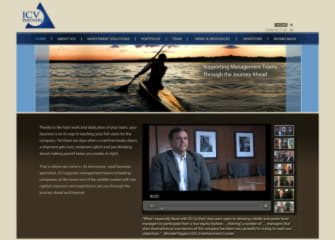 ICV Partners, LLC (ICV), a leading investment firm focused on investing in lower middle market companies, announced today that it has completed the sale of its portfolio company Mallet & Company, Inc., to Vantage Specialty Chemicals, Inc., a portfolio company of The Jordan Company, L.P.
ICV invested in Mallet in 2010 in partnership with Robert Mallet, the company's Chairman whose father founded the company in 1939. Headquartered outside of Pittsburgh, Mallet is a leading manufacturer of value-added specialty ingredients including food grade release agents, specialty blends, emulsifiers and icing stabilizers. Additionally, the Company designs and builds customized spray equipment to apply many of its specialty ingredients. The Company provides best-in-class products and services to a broad range of channel leading customers, including commercial bakeries, packaged food companies, frozen pizza manufacturers, and national pizza retail chains. The Company provides high quality, process-critical ingredients that increase product quality and efficacy and lower costs by reducing waste.
Commenting on the sale, Mr. Mallet, said, "I was originally attracted to working with ICV because of their successful history of partnering with founder-owned companies and their existing knowledge of our industry, which enabled us to quickly develop a comprehensive growth strategy."
Bob Campanale, recruited by ICV to serve as CEO of Mallet, said, "ICV provided us with insights, flexibility, and resources to significantly invest in our business to drive organic growth and enhance our value to our customers by developing innovative new products such as a complete line of PHO-free products and becoming a certified Organic Food Processor. I am very pleased with what we have accomplished together and believe that Vantage will serve as a perfect home for Mallet to successfully build its next phase of development."
Ira Moreland, Managing Director of ICV Partners, said, "Since our investment in 2010 it has been a pleasure working with Bob, his leadership team and Mallet's world-class R&D group to develop exciting, new solutions for existing customers that allowed expansion into new markets, product categories and geographies. We have grown Mallet's technology and specialized manufacturing capabilities, and the combination of new product offerings and a strong management team will serve the Company well in pursuing the many opportunities for growth. We're very pleased with the outcome of these efforts for both our investors and Mallet's customers and employees."
About ICV Partners
Founded in 1998, ICV Partners is a leading private investment firm that supports management leaders of strong companies at the lower end of the middle market. The principals of ICV have crafted a strong track record of helping companies improve performance over the long term and across a variety of industries. ICV seeks to make control investments in market leading businesses with $25 million to $250 million in revenue. Additional information is available at www.icvpartners.com.