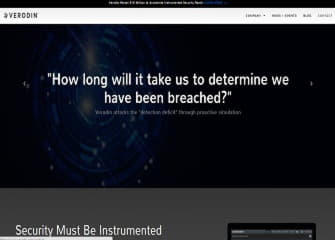 Investors Blackstone, Rally Ventures, Crosslink Capital and Cisco Investments inject added capital and strategic support
Verodin, a software company defining the concept of Instrumented Security™, today announced it successfully closed a new $10 million Series A funding round with some of the leading names in cybersecurity. Funding from investors Blackstone, Rally Ventures, Crosslink Capital and Cisco Investments adds pivotal resources to accelerate Verodin's market growth.
Verodin's groundbreaking platform instruments an enterprise's entire security infrastructure, continually testing, evaluating and monitoring its effectiveness. The platform enables organizations to measurably mature their cybersecurity defenses by safely executing advanced cyberattack patterns and malicious behaviors directly within live production environments, and to determine how security controls respond – in real-time.
"Verodin's unique focus on proving where security measures are truly effective is a disruptive new offering in the cybersecurity space," said Blackstone Chief Information Security Officer (CISO) Jay Leek. "CISOs shouldn't have to assume. They need to know how their people, processes and technology will perform when attacked, and Verodin's platform makes that possible."
Despite unprecedented levels of cybersecurity awareness and spending, businesses continue to face uncertainty around how effectively their defenses will stand up to the full spectrum of cyber threats. By removing assumptions and providing invaluable situational awareness, Verodin lets security managers, C-level executives and boards of directors maximize security investments by empirically improving the enterprise's defenses.
"Across organizations, metrics around cybersecurity are changing," added Rally Ventures Partner Art Coviello, former executive chairman of RSA. "Security, IT and business leaders increasingly value specifics about the performance, individually and jointly, of the many products they've deployed. The appeal of Verodin is that its platform provides quality measurables, enabling customers to drive significant improvements in the effectiveness of their security controls, policies and people."
By revealing an organization's true security posture, Verodin's platform eliminates costly uncertainties, identifies breach weaknesses, greatly enhances security training and helps customers make more cost-effective security buying decisions.
"We are excited to have the credibility and support of this group of security leaders behind Verodin's execution," said Verodin Co-founder and CEO Christopher Key. "Together, with these new partners, we look forward to revolutionizing how the effectiveness of cybersecurity is measured in a field otherwise governed by gratuitous spending and assumptions."
Verodin's business model continues to attract strategic partners who benefit from adding Instrumented Security to their capability offerings and unique value propositions. To learn more about partnership opportunities, visit https://verodin.com/partners.
Meet with Verodin's team in Booth #371 during Black Hat USA, July 30 – August 4 in Las Vegas.
Follow Verodin:
Newsroom: https://verodin.com/newsroom
Blog: https://verodin.com/blog
Twitter: @VerodinInc
LinkedIn: https://www.linkedin.com/company/verodin-inc-
About Verodin
Verodin is defining the emerging concept of Instrumented Security. The company's revolutionary platform empowers customers to measure and continuously validate the cumulative effectiveness of layered security infrastructures – across technologies and people - revealing true security postures. Through automated defense analysis, Verodin customers achieve maximum value from security spending, better leverage existing security investments and measurably improve their cyber prevention, detection and response capabilities. Learn more at www.verodin.com.