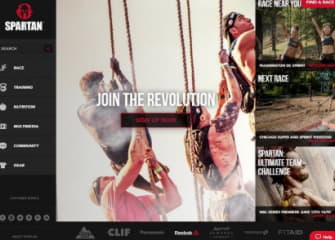 Spartan Race, Inc. and Hearst Ventures today announced that Hearst has acquired a minority stake in Spartan Race, a significant foray into the live event space for Hearst. The announcement was made by Joe De Sena, founder and CEO, Spartan Race, and George Kliavkoff, president, Hearst Ventures. Terms of the deal were not disclosed.
Founded in 2010, Spartan Race has quickly grown to become the world's preeminent obstacle race company, with more than 1 million racers participating in Spartan Races in over 25 countries. Through the development and rapid adoption of these offerings, Spartan Race has established itself as a trusted health and wellness lifestyle brand for its loyal consumer base numbering in the millions.
"Spartan has remained steadfast in its mission to change lives around the world through offering the best obstacle race event and educating consumers on how to lead a healthy lifestyle," De Sena said. "We are honored that Hearst has endorsed our mission through its decision to invest in the company. Having a global media powerhouse like Hearst join our team will provide us access to invaluable expertise and other strategic resources we need to continue growing our footprint globally and developing the Spartan ecosystem of health and wellness offerings."
Spartan's popularity has been further demonstrated by the success of its Emmy-nominated sports series in partnership with NBC Sports, Spartan Race. The show will be complemented later this month with the premiere of a new competition reality series, Spartan: Ultimate Team Challenge, scheduled to air on June 13, on the NBC broadcast network at 10 p.m. (ET). In addition to its core race event offerings, Spartan Race offers a variety of other products and services including training programs, performance apparel, nutritional content and development tools for individuals and employers.
"Hearst prides itself on investing in best-in-class properties, and recently has been eager to invest in event platforms," said Scott English, managing director, Hearst Ventures. "Spartan Race is the gold standard in obstacle racing which has emerged as one of the fastest growing sports in the world. The company is at the forefront of growing international demand for engaging, participatory experiences and increasing focus on healthier living. We believe the Hearst platform is perfectly suited to help Spartan Race continue its incredible growth story worldwide." English will be joining the board of Spartan Race.
Spartan Race has pioneered obstacle racing as the first international obstacle race positioned as a timed, sports competition. In response to growing customer demand for additional "Spartan" experiences, the company set out to develop services and content that support a healthy lifestyle. These include group workouts, endurance properties like the recently announced Agoge event and self-improvement content, such as its New York Times bestselling Spartan Up! book and podcast series.
About Spartan Race
Spartan Race is the world's leading obstacle race company and the first of its kind to feature timing and global rankings. With more than 170 events in 25+ countries planned for 2016, Spartan Race has more than 1 million global participants, and offers open heats for all fitness levels as well as competitive and elite heats. With over 5 million passionate social media followers, health and wellness products, as well as the popular NBC television series, Spartan Race has made obstacle racing one of the fastest growing sports—and lifestyles— in the world. Spartan Race features races at three distances, 3+Mile/20+ Obstacle "Sprint," 8+ Mile/25+ Obstacle "Super" and 12+ Mile/30+ Obstacle "Beast," culminating each year in the Spartan Race World Championship. Visit http://www.spartan.com for more information, a schedule of events, and to register for a race.
About Hearst Ventures

Hearst Ventures makes strategic investments in companies operating at the intersection of media and technology. Starting with its investment in Netscape in 1995, Hearst Ventures has grown to become one of the most active and successful corporate venture funds. Notable investments include Pandora, Brightcove, XM Satellite Radio, Eink, Sling Media, Exodus, Broadcast.com, Hootsuite, IGG and Buzzfeed. Hearst Ventures (hearstventures.com) is a unit of Hearst, one of the nation's largest diversified media and information companies.