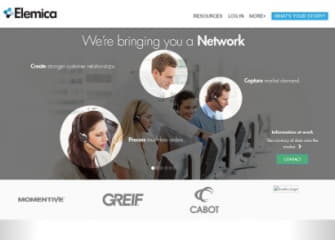 Thoma Bravo, LLC, a leading private equity investment firm, and Elemica, the leading Supply Chain Operating Network for the process industries, have entered into a definitive agreement for the acquisition of Elemica. Financial details were not disclosed. This transaction will expand the capabilities of Elemica's innovative supply chain solutions. By focusing more resources and investing in next-generation technologies, Elemica's clients will benefit from faster time to value while gaining greater returns and realizing better bottom line results.
"As a testament to the performance and promise of Elemica's business, the Board is excited to announce Thoma Bravo's stewardship of the company," said Robert Blackburn, Chairman of the Board at Elemica and President of BASF Group. "The time was right to find a buyer with a proven track record of successfully investing in distinctive software and technology companies and helping them grow faster."
"Elemica represents the ideal archetype for what we look for in an investment at Thoma Bravo," said A.J. Rohde, Partner at Thoma Bravo. "The company has developed a patented supply chain and logistics network in key verticals such as chemicals, tire & rubber and other process industries, provides mission-critical applications for its customers, and is run by a world class management team led by John Blyzinskyj, with whom we are thrilled to be partnered."
Thoma Bravo has provided equity and strategic support to experienced management teams of growing companies for more than 30 years. With a strong track record in the software and technology industry, Thoma Bravo focuses on creating value by partnering with management to transform successful businesses into larger, more profitable and rapidly growing companies through operational improvements and strategic add-on acquisitions. Thoma Bravo sees Elemica as an attractive investment opportunity, with a strong portfolio of products, a talented team, and a great opportunity to support customers through continued organic and inorganic growth.
"The goal remains to grow Elemica's business network into a multi-trillion-dollar commerce engine annually," said John Blyzinskyj, CEO of Elemica. "This acquisition will accelerate the time to market for solutions that automate and orchestrate mission critical supply chain processes across a global community of buyers, suppliers and logistics providers. Thoma Bravo's exceptional track record and proven expertise in our industry will enable Elemica to further capitalize on its growth and leadership."
Elemica is a world-wide leader in supply chain solutions with headquarters in Wayne, Pennsylvania, and employees around the globe. The company is known for its strong business network and associated applications that are game changers for process manufacturers, helping companies identify, anticipate and overcome challenges to achieve more cost savings and collaborate more effectively with trading partners.
Kirkland & Ellis served as legal advisor to Thoma Bravo. Houlihan Lokey served as financial advisor and Pepper Hamilton served as legal advisor to Elemica.
About Thoma Bravo, LLC
Thoma Bravo is a leading private equity investment firm building on a 30+ year history of providing equity and strategic support to experienced management teams and growing companies. The firm seeks to create value by collaborating with company management to improve business operations and provide capital to support growth initiatives. Thoma Bravo invests with a particular focus on application and infrastructure software and technology enabled services. The firm currently manages a series of private equity funds representing more than $12 billion of equity commitments. For more information, visit www.thomabravo.com.
About Elemica

Elemica is the leading Supply Chain Operating Network for the process industries. Elemica transforms supply chains by replacing manual and complex approaches with efficient and reliable ones. Launched in 2000, customers like Arkema, BASF, Continental, Dow Chemical Company, The Goodyear Tire & Rubber Company, Michelin, and Shell, and more process nearly $400B in commerce value annually on the network. Elemica drives bottom line results by promoting reduced cost of operations, faster process execution, automation of key business processes, removal of transactional barriers, and seamless information flow between trading partners. For more information, visit www.elemica.com.